The Los Angeles Lakers and Miami Heat will face off in the NBA Finals, while the Las Vegas Aces are matched up against the Seattle Storm for the WNBA championship title.
October 01, 2020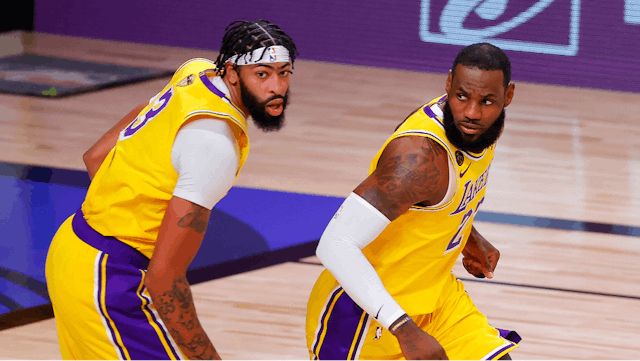 SOURCE: NBA/TWITTER
The GIST: We're only one game into the NBA Finals, and though we're already hoping this series goes a full seven, the LA Lakers may wrap it up a lot sooner.
Tell me everything!: With President Obama, Shaquille O'Neal and Dwyane Wade sitting courtside (virtually, of course), the Miami Heat and LA Lakers kicked off the highly anticipated NBA Finals with a one-sided highlight reel. The Heat came out hot, at one point leading the Lakers 25–12, but it didn't last long.
The Lakers were up by 17 at the half, and thanks to unreal performances by Anthony Davis, who put up 34 points, and LeBron James, who did this, the Lakers took Game 1 with a 116–98 win. Unfortunately for the Heat, they lost the game and Goran Dragić, who left in the first half with a foot injury. Ouch. Game 2 tips off tomorrow at 9 p.m. ET.
What about the W?: League MVP A'ja Wilson led the Las Vegas Aces with 23 points in Tuesday night's 66–63 do-or-die Game 5 win over the Connecticut Sun.
With the win, Wilson became the fifth-straight season MVP to make it to the Finals, and all four who came before her went on to win the championship. Foreshadowing? Maybe.

But Wilson and the Aces will be in a tough matchup against a stacked Seattle Storm squad led not only by former MVP Breanna Stewart but also WNBA legend Sue Bird, who after an injury-filled 2019 season will be looking to repeat on their 2018 WNBA title. Catch Game 1 of the five-game series tomorrow at 7 p.m. ET.