The GIST: As the NFL races towards the playoffs, the Giants wish they could slow time to give QB Daniel Jones a chance to heal. Meanwhile, the Jets are nearing a winless season, and fans are putting all their hope in an off-season glow-up as dramatic as the Rockefeller Center's tree.
December 18, 2020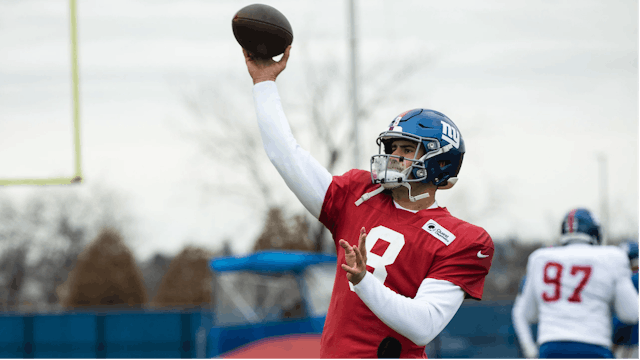 SOURCE: MATTHEW SWENSEN/NEW YORK FOOTBALL GIANTS
Load management: With the race for the NFC East title at its peak, Sunday's 8:20 p.m. ET tilt against the Cleveland Browns is more important than ever for the Giants. The issue? QB Daniel Jones is injured again and might not be able to play. Considering that and Jones' disappointing performance last week, we wouldn't be surprised to see backup QB Colt McCoy take the field on Sunday.
Whether the G-Men risk Jones or gamble on McCoy, it will be up to their defense to own this game. Fortunately, the Giants' rushing defense should be able to hold their own against the run-dominant Browns. Only time will tell.
Must've been love: In another chapter of New York's ongoing QB drama, the Jets' Sam Darnold is starting to feel the pressure of the #TankforTrevor movement with an 0-16 season looking all-but-inevitable. So, Darnold committed himself to Gang Green...for life? Unfortunately for him, the high likelihood that the Jets secure the top draft pick means Darnold will probably be traded.
The Jets face the 9-4 LA Rams on Sunday, and it's expected to be another brutal loss. 2020 keeps getting better.