🏀

Dallas: Mavs Make Controversial Move with New Coach Jason Kidd

June 28, 2021
Source: Elias Valverde II/The Dallas Morning News
🏀Mavericks: On Friday, that the Mavs had hired former Dallas star Jason Kidd as the franchise's 10th HC. Kidd played 19 seasons in the NBA and was a key player during the Mavs' 2011 championship run. He also has a , including an arrest in 2001 for domestic abuse.
With their own troubled history of , the head coaching vacancy presented an opportunity for the Mavs to make a much-needed change. Mark Cuban in 2018, but proved he learned nothing by hiring Kidd.
On the court, Kidd's playing skills certainly didn't transfer to his coaching abilities. He has a head coaching record under .500 and lasted just one season with the Brooklyn Nets. There's no way to spin it: this is a terrible hire.
🏀Wings: We want to end on a high note, so we'll turn to the WNBA. Thanks to Arike Ogunbowale's (pronounced ah-REE-kay oh-goon-boh-WAH-lay) 30-point performance, the Wings defeated the Washington Mystics 85–74 on Saturday. Next up, the squad will go for their third straight win against the Chicago Sky on Wednesday at 8 p.m. ET/7 p.m. CT. Ready for takeoff.
🏅
🏆
⚾
Boston: Red Sox Sweep Yankees for 2nd Time this Season
June 28, 2021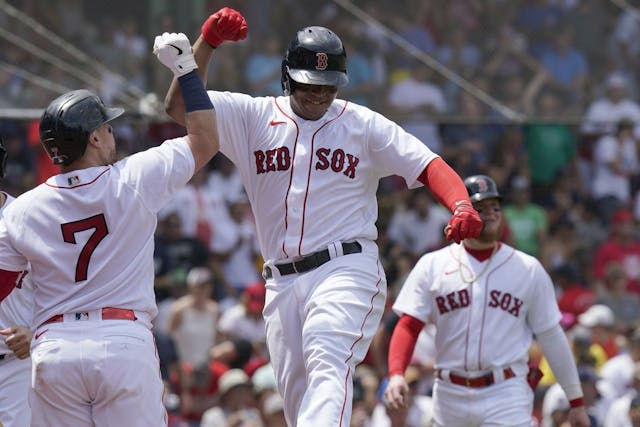 Source: Steven Senne/AP Photo
⚾️Red Sox: Rafael Devers went three-for-four and of the year yesterday, helping the Sox to a 9–2 win and a series sweep over the NY Yankees. It's the second time Boston has swept the Yankees this season. Some rivalry, huh?
👟Track & Field: Massachusetts will be well-represented on the international stage in Tokyo. As we mentioned, Harvard grad Gabby Thomas qualified for her first-ever Olympics with a in the 200m.
🎾

Wimbledon Preview

June 27, 2021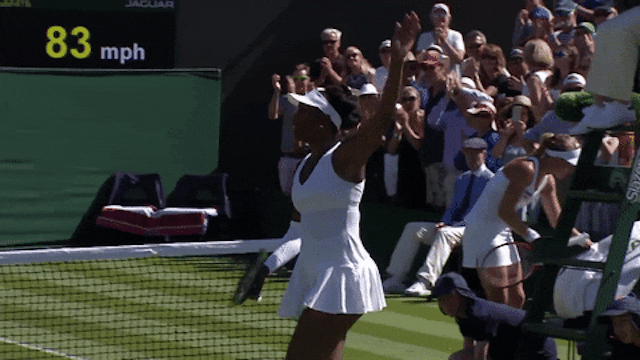 SOURCE: WIMBLEDON/GIPHY
QUOTE OF THE DAY
My dad said, 'Pick a tournament that you want to win more than any other tournament,' and I chose Wimbledon.
— Seven-time Grand Slam singles champion Venus Williams, on the importance of her five Wimbledon titles, which on multiple occasions came at the expense of her sister Serena. We love a Sister Slam.
📗 The history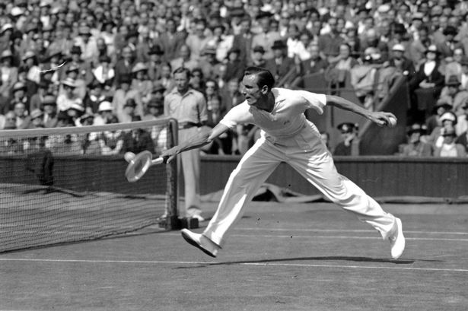 The Championships, Wimbledon, also known simply as The Championships, date back to 1877, making it the oldest tennis tournament in the world and arguably the most prestigious.
Originally played only by male amateurs, the tournament invited women to play singles in 1884, the same year the men's doubles event was introduced; however, the tournament wasn't open to professionals until 1968.
✔️ The details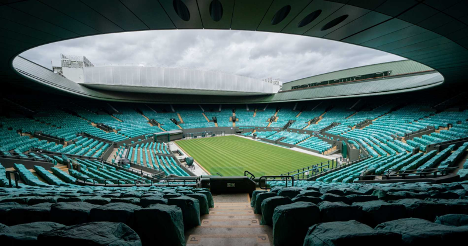 Until last year, the Championships had only been canceled twice before in its 144-year history — once from 1915 to 1918 due to World War I and again from 1940 to 1945 during World War II. COVID-19 caused the third cancellation to occur in 2020, but the summer event is back in full swing this year.
Over the next two weeks, 128 of tennis' best and brightest will compete in the men's and women's singles throughout six elimination rounds. Then, all eyes will be on Centre Court for the July 10th and 11th singles finals, with a full capacity crowd no less.
As for the doubles competitions, men's, women's and mixed pairs begin mid-week with the last rounds set for the final weekend.
A prize pot of £35 million (about $48.7 million USD) is up for grabs and we can once again expect an equal shake out of rewards to both the men's and women's singles winners: each will receive a cool £1.7 million (about $2.36 million USD). Cha-ching.
🎾 The surface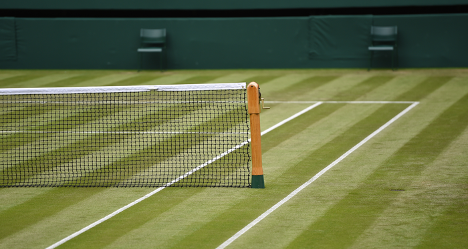 Wimbledon is the only Grand Slam tennis eventplayed on grass, and like clay, pros either excel or fall victim to the unique terrain.
The grass is precious to the club, so precious that Serena Williams was fined a whopping $10,000 (!!!) in 2019 for damaging the court during practice. You can expect to hear, "Keep off the grass!" more than once throughout the contest.
The lawn received a facelift of sorts in 2001, changing its makeup from 70% rye and 30% creeping red fescue to 100% perennial rye (whatever that means). The update also brought oodles of controversy.
But not all of the stadium's focus is on the ground. In 2009, organizers were looking up when they installed a retractable roof over Centre Court in preparation for those rainy English days. But this change was met with, you guessed it...more controversy.
Another element unique to the Wimbledon experience is the advertising, or lack thereof. Compared to other Grand Slams, the club sells a marginal number of advertising spots around the court.
They work with a few chosen partners, like Rolex, IBM and Slazenger, to supply the clocks, statistics and balls. And there's no commitment issues here. Slazenger, for one, has partnered with Wimbledon since 1902. Talk about loyalty.
🍓 Traditions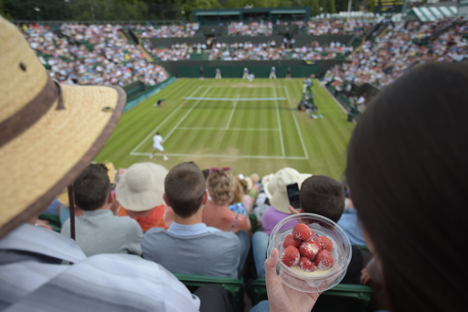 If you haven't already noticed, The Championships have a very strict dress code for participants, complete with a list of rules dedicated specifically to clothing and equipment.
White will be the new black in England for the next two weeks. It has been the staple color since the inaugural tournament. And white means white, all the way down to the inside of your cap.

The original reasoning behind the color choice was due, in part, to the supposed cooling effects, but it also allowed athletes to sweat discreetly on hot summer days since signs of sweat were deemed "improper." Uh, we're talking about sports here, right?

While we can't deny the dress code is part of the fun of watching, many players have challenged it. If they don't abide by the rules? They may be asked to change and even disqualified.
While avoiding the tournament's fashion police,spectators can pig out elegantly nibble on another Wimbledon tradition, strawberries and cream.
This sweet treat has become such a tournament staple it's estimated that 10,000 liters (about 2,642 gallons) of cream and 28,000 kilograms (about 61,729 pounds) of strawberries are consumed on average each year.
The price at Wimbledon for strawberries and cream has remained the same since 2010: £2.50 a pop (about $3.48 USD). Spectators are allowed to bring their own bottle of wine or champagne or two cans of beer to cut down on costs. Classy frugality.
Speaking of class, it's not Wimbledon without a member of the Royal Family making an appearance. While the Queen has only attended four times, with her last time in the Royal Box coming back in 2010, her grandsons and their partners have been known to enjoy the tournament more frequently.
This year's Championships might be too much of a trip for Prince Harry and Meghan Markle though, with the recent birth of their daughter and, well, the family drama.
✨ Memorable moments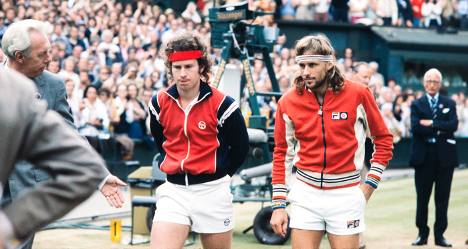 Now that we know what not to wear, what to eat and who we might see, it's on to the action. Wimbledon has supplied some of the greatest moments in tennis history so before we witness what this year's tournament has in store, let's take a short walk down memory lane, shall we?
Fire and Ice: In one of, if not the greatest matches in tennis history, rivals (and polar opposites) Björn "Ice-Borg" Borg of Sweden and U.S. hothead John McEnroe met in the men's singles finals at the 1980 edition of The Championships.
It was there that the two found themselves in a fourth set tiebreaker and 20 minutes of back-and-forth point scoring ensued. Borg ultimately claimed his fifth Wimbledon title that day and the crowd certainly got their money's worth.
Sister, Sister: As competitors, the aforementioned Willams sisters have produced nail-biting finals matches. As partners, the two have an undefeated doubles record at Wimbledon. In 2008, Serena already had two Wimbledon wins against her sister but that year, Venus was the superior grass-court player.
When the two met in the finals, Venus secured a calm victory over her sister with an impressive 7–5, 6–4 performance. Whether they're competing against or with one another, these two have always rooted for each other.
Nadal-Federer showdown: Rafael Nadal and Roger Federer have battled on numerous occasions, but their 2019 semifinals Wimbledon match was certainly a stand-out clash. It was their first time meeting at The Championships since the epic 2008 final, and the two were firing on all cylinders in front of an energetic crowd.
It was Federer though, who claimed a 7–6(3), 1–6, 6–3, 6–4 win and advanced to the final where he suffered a tough loss to Novak Djokovic (pronounced JOCK-uh-vitch).
💪 Women to watch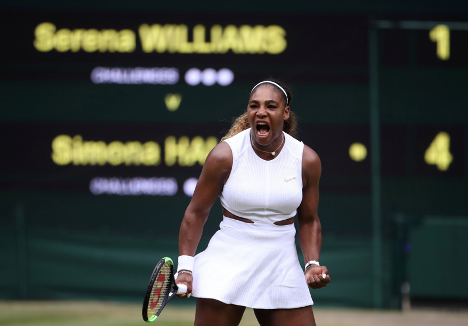 World No. 8 Serena Williams: All eyes will be on the GOAT as the seven-time singles champ goes after her record-tying 24th Grand Slam title once again. Williams was knocked out of the fourth round of the French Open, but we're hoping she'll come back swinging on the lawn in London.
World No. 1 Ashleigh Barty: After suffering an injury during the second round of the French Open, Barty enters the Championships as the No. 1 seed (again) and the Australian competitor will certainly have a target on her back.
World No. 23 Coco Gauff: In 2019, Gauff became the youngest player in the Open era to earn a main draw Wimbledon berth by coming through Qualifying. She's coming off a tough quarterfinal elimination at the French Open this year, but the 17-year-old has proven that while she may still be learning, she's also winning.
World No. 112 Venus Williams: While she didn't quite make the ranking cut-off for The Championships this year, just days after her 41st birthday, Venus was offered a wild card invitation to compete and make her 23rd Wimbledon appearance. This is her favorite Slam, so expect her to bring it.
👊 Men to watch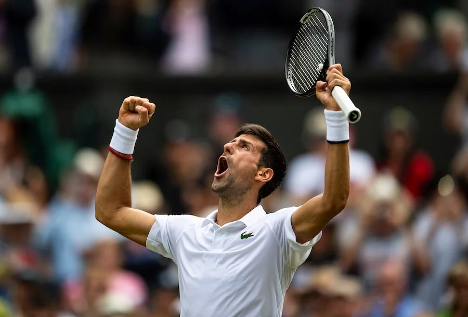 World No. 1 Novak Djokovic: "Nole" will be back on the grass to defend his singles title. After his French Open victory earlier this month, Djokovic became just the third man in Open era history to win each Grand Slam title at least twice. With a Wimbledon win this year, he'd also tie Federer and Nadal with 20 Grand Slam singles titles overall.
If he does come out on top, Djokovic could become the first male player to complete the "Golden Slam" –– winning all four majors and a gold medal at the Olympic Games in the same calendar year. Sheesh.
World No. 4 Stefanos Tsitsipas (pronounced see-see-PAS): Djokovic's fellow finalist at the French Open is ready to compete again on the grass court. While the Greek competitor hasn't had the best results at Wimbledon in the past, he'll be looking to change his luck in this year's edition.
World No. 8 Roger Federer: With eight Wimbledon singles titles under his belt, Federer enters the tournament as the former World No. 1, but the grass court vet may be out for blood with a chance to meet Djokovic in the final once again.
World No. 2 Daniil Medvedev: Medvedev was knocked out in the third round of The Championships in both 2018 and 2019 and will be looking to avenge that early exit this year. The Russian seed said that Federer is likely going to be his toughest opponent due to his style of play on the lawn.
😢 Who will be missed?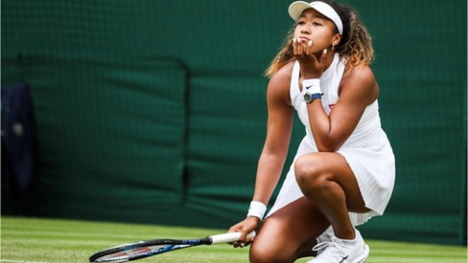 World No. 2 Naomi Osaka isn't making the trip to England, as she announced she will use the time to prepare for the upcoming Tokyo Olympics.
Osaka's history at Wimbledon is rocky. After suffering a loss to Yulia Putintseva in 2019, Osaka had a particularly rough time during the post-match press conference. If she needs a break to focus on her mental health, we certainly support it.
After tearing a muscle in May's Italian Open, world No. 3 Simona Halep also withdrew from the tournament, leaving the field pretty wide open.
On the men's side, the aforementioned Nadal won't be seen on the grass this year, either. Citing injury, the Spanish star pulled out of Wimbledon and the Olympic Games next month.
World No. 5 Dominic Thiem, who had already pulled out of the Olympics, also announced his Wimbledon withdrawal after a suffering a wrist injury during a warm-up tournament last week.
🎥 How to tune in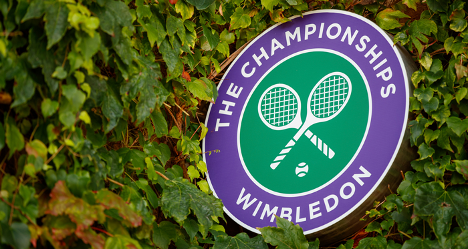 Catch all the white hot action beginning tomorrow on ESPN and The Tennis Channel in the U.S. and TSN in Canada. No TV? No problem. Follow along with live updates here.
🏎

W Series Preview

June 26, 2021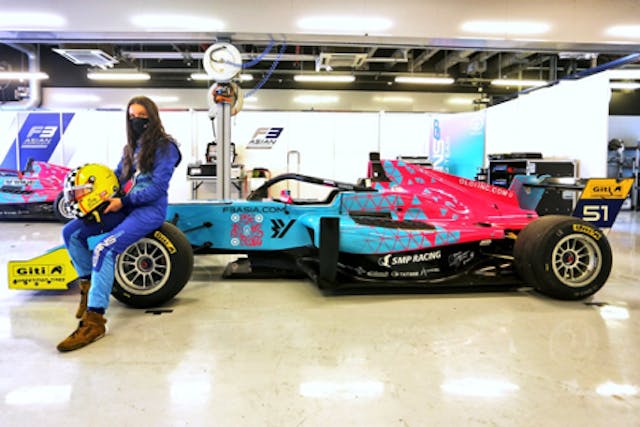 SOURCE: IRINA SIDORKOVA/TWITTER
QUOTE OF THE WEEK
My parents wanted a princess but instead they got a racer.
—Irina Sidorkova, a 17-year-old Russian driver who will make her debut today as the youngest W Series driver. Badass.
🙋‍♀️ History of women in motorsport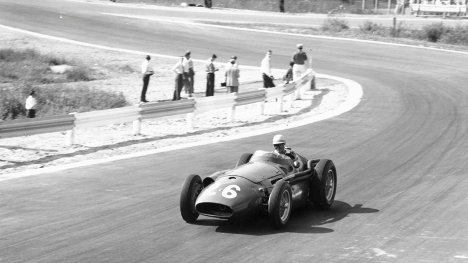 Before we get into the W Series, let's dive into a quick history of women in motorsport. While there are no official rules barring women from entering top racing series like Formula One (F1), NASCAR, IndyCar and MotoGP, motorsport has long been one of the toughest male-dominated industries for women to crack into...but not impossible.
Women have been competing in motorsport for over 120 years. Drivers like Camille du Gast and Dorothy Levitt in the 1900s, Eliška Junková in the '20s, and the all-female 24 Heures du Mans crew in 1930 set the stage before the dawn of F1 in 1950.
But in F1's 70-year history, only five women have entered — and only two have competed in — a Grand Prix race. The first was Maria Teresa de Filippis (who got into racing after her brothers said she couldn't drive fast), and at the 1975 Spanish Grand Prix, Lella Lombardi became the only woman to score points.
In NASCAR, 16 women have competed at the top level: Sarah Christian broke the gender barrier in 1949 and Janet Guthrie became the first woman to qualify for both the Daytona 500 and Indy 500 in 1977.
These incredible women fought hard to race in the upper echelons of motorsport, but the biggest barrier in achieving equality has been the lack of sponsorship for female drivers.
Race car driving is an expensive business, and without sponsors to help cover costs, many women don't have the opportunity to compete amongst the men. Enter the W Series.
🏎 The W Series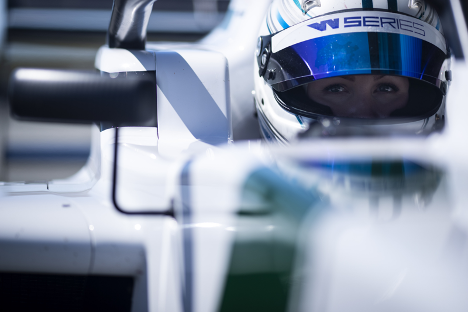 Conceived in secret over two years, the W Series was announced in late 2018, ahead of the inaugural 2019 season. The series is free to enter (for reference, Mercedes paid nearly $5.5 million to race in F1's 2020 season), and sponsorships are not required, eliminating that huge roadblock (pun intended) we mentioned.
In the beginning, the series wasn't met with open arms, as many feared the series would further segregate women. But, the W Series' first season only helped promote female drivers, providing them with elite-level professional experience.
The first season ran six races, with Jamie Chadwick (who was skeptical about a female series herself) winning the first ever W Series title, but plans to expand in 2020 were nixed due to the pandemic. Now, the W is back for 2021 and better than ever...
🎉 The new season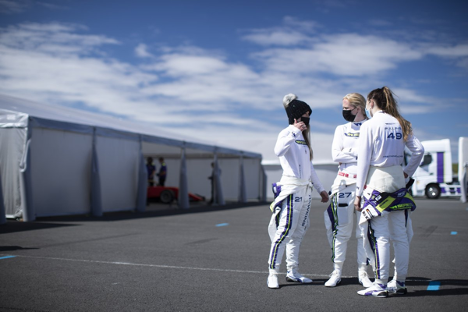 Eight races on seven legendary circuits. Every W Series race this season will "support" F1, meaning the W series will compete on the same track every F1 weekend, on Saturday after F1's qualifying.
Eighteen drivers will kick off the four-month season today with the first of two back-to-back races at the Red Bull Ring in Austria.
Drivers compete for points each race using the same system as F1, with points accumulating over the season. The driver with the most points by the final race of the season — at Mexico's Autódromo Hermanos Rodríguez circuit on October 30th — wins the W Series Championship.
🏆 The reigning champ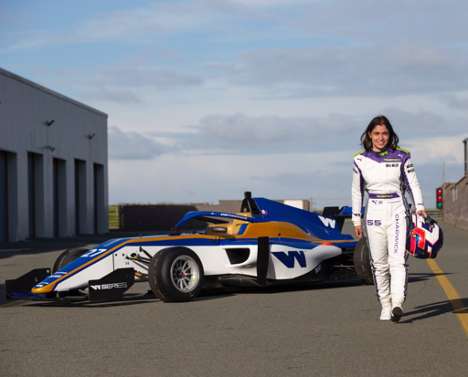 🇬🇧Jamie Chadwick: A name that needs no introduction...but we'll give you one anyway. Chadwick began karting at the age of 12 and was an ace from the get-go. In 2015, she won the British GT Championship in her first non-junior season, becoming the first woman and youngest-ever champion.
Besides winning the inaugural W Series championship, she's also won the MRF Challenge and raced in F3 (a feeder series for F1).
Along with defending her W title this year, she's also racing in Extreme E— a new racing series that promotes environmental protection and gender equality — and is currently a development driver for the Williams F1 team. A true multitasker.
💪 The top contenders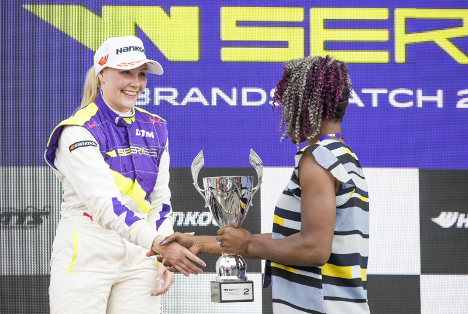 🇳🇱Beitske Visser: The W Series went virtual when the 2020 season was canceled, holding 10 iRacing races to fill the void. After finishing the 2019 season in second place, the Dutch Visser won the eSports championship, and will be back in a real car to contend for the 2021 title.
🇬🇧Alice Powell: The Englishwoman finished third in 2019, with one win, two second-place finishes and one third, as well as two unfortunate retirements. She has pole position today, and if she manages to finish all eight races this season, she could be the one to beat.
🇪🇸Marta García: Like most race car drivers, the Spanish 20-year-old got her start in karting. Six years ago, she won the oldest kart race in the world — the Trofeo delle Industrie — joining the ranks of past winners like Lewis Hamilton, Sebastien Vettel and countryman Fernando Alonso who all went on to become F1 World Champions. Sign of things to come?
🇫🇮Emma Kimiläinen: The oldest competitor in the series, a 31-year-old from Finland, suffered a nasty crash in the third race of the 2019 season, which reinjured a lingering neck sprain (and as we know, strong necks are very important in racing). The Finn came back to win 2019's fifth race and finished the season fifth overall.
🇺🇸Sabré Cook: The only North American on the grid this season, the Coloradan (who is also a mechanical engineer, NBD) is set for her best racing season yet. Unlike most of her European competitors, Cook's ultimate goal after the W Series is making it to IndyCar à la Danica Patrick, and we have no doubt she'll dominate.
📺 How to watch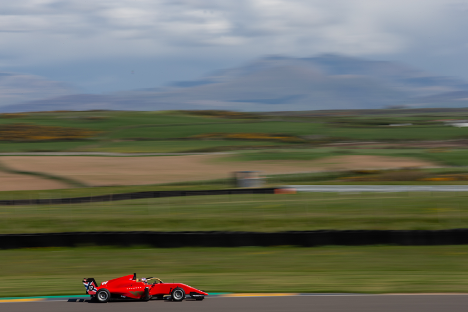 The season starts today at 10:30 a.m. ET on TSN in Canada and coverage in the U.S. starts at 9 a.m. on beIN Sports. Be sure to follow the W Series on Twitter and Instagram for all the live action. Start your engines!
🏀
🏆
Let's get down to business
June 24, 2021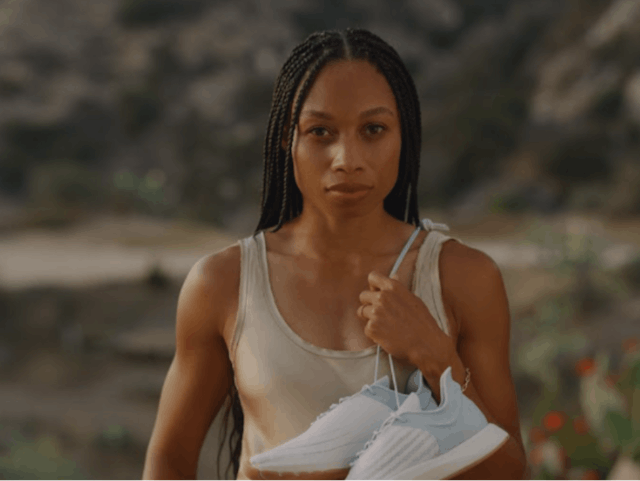 Source : The Saysh One
🎓College: Though our nation may be divided, it turns out we can all agree on something: the NCAA has it wrong. On Monday, the Supreme Court unanimously upheld a lower court's decision that the NCAA violates antitrust law by limiting education-related benefits for athletes. This means athletes can receive unlimited compensation, so long as it's tied to their education.
Looking ahead, six states have laws that will go into effect July 1st permitting college athletes to be paid for sponsorships, appearances and more. Now, the NCAA is racing the clock to implement a temporary nationwide solution. Stay tuned.
👟Allyson Felix: Fresh off qualifying for her fifth Olympics, Felix announced the launch of her new shoe brand, Saysh yesterday. Felix was without a shoe sponsor after famously splitting with Nike in 2019, so she decided to make her own. Run momma run.
🏀Jordan Brand: Move over, The Last Dance. Michael Jordan made his greatest contribution yet when he announced the Jordan Brand's "WNBA family" campaign, featuring 11 WNBA players. Representation matters.