🏈
🏒
Dallas: Lights, camera, action
April 29, 2021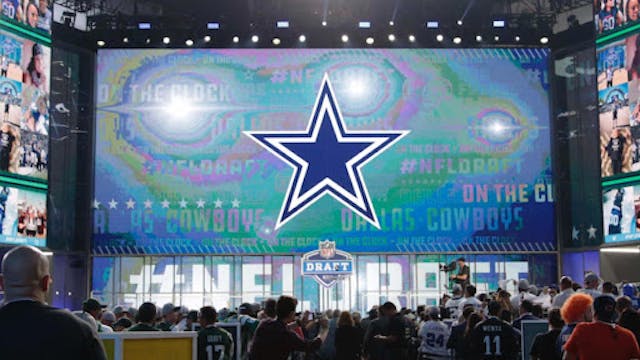 Source: Tim Heitman/USA TODAY Sports
🏈Cowboys: After strengthening their offense this offseason, the Cowboys need to make some serious defensive additions during the NFL Draft. We're expecting the 'Boys to take Alabama cornerback Patrick Surtain II with the 10th overall pick, but if we've learned anything about owner Jerry Jones, it's to .
🏒Stars: After , the Stars looked like a completely different team on Tuesday, falling 5–1 to the Carolina Hurricanes. Yeesh. But there's still hope: the Stars are just two points out of fourth place (and the final playoff spot) in the Central Division with seven games remaining.
The playoff hunt continues tonight at 7 p.m. ET/6 p.m. CT against the defending champion Tampa Bay Lightning. But Saturday's 8 p.m. ET/7 p.m. CT game against the Nashville Predators is the one to watch.
It could mark the long awaited return of center Tyler Seguin, who led the Stars in points last season but has been out with a hip injury all year. .
🎾
🏀
🏒
🏆
Let's get down to business
April 29, 2021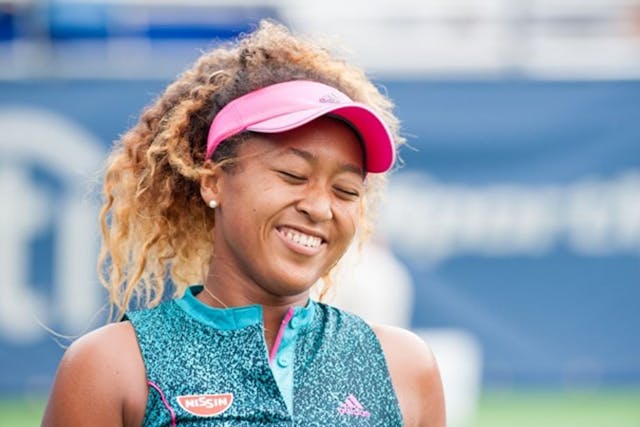 Source: Rena Schild/Shutterstock
🎾Naomi Osaka: The four-time grand slam champion is expanding her empire. Osaka announced yesterday that she's collaborating with Frankies Bikinis on a brand new bathing suit line set to launch in May, and she is also launching a new SPF-loaded skincare line for melanated skin tones. #StayGolden
🐊Gatorade: Sports drink companies are picking up what we've been laying down for years: Bet. On. Women. Gatorade recently created a (very stacked) women's advisory board to help deepen their connection with female athletes, while also holding them accountable in delivering against their guiding pillars. HYFR.
🏀NBA: TIME revealed their first-ever TIME100 list of the most influential companies on Tuesday, and the NBA was named as the top "Leaders" brand, thanks to their global growth. Eight sports-related brands made the list, but only one other sports league was featured: the English Premier League, highlighted for its exemplary broadcasting rights. Jolly good!
🏒NHL: They might not be NBA-level yet, but the NHL is working on growth, too, starting with broadcasting. After 16 years, they've cut ties with NBC to triple their revenue in a new seven-year deal with Turner Sports, and have already signed a deal with ESPN. It'll mark the first time since 1999 that the NHL has two American broadcast partners. Double rainbow.
⚾
⚽
Chicago: Put your back into it
April 26, 2021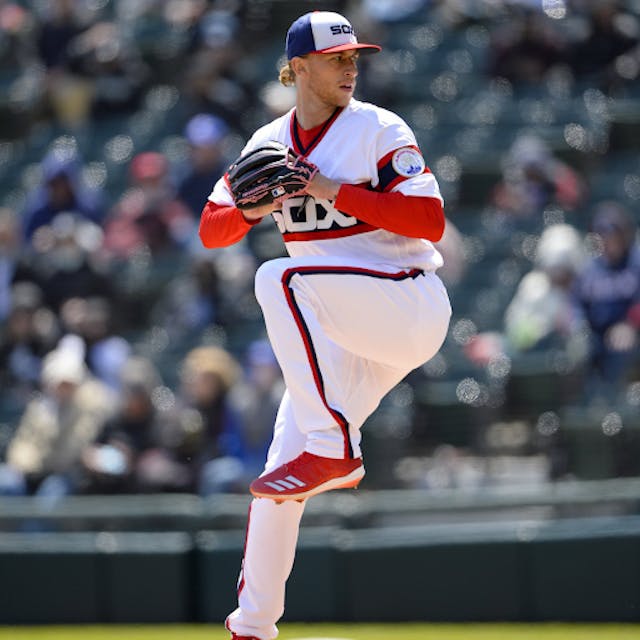 Source: White Sox/Twitter.com
⚾️MLB: After an exciting 15–2 win over the Milwaukee Brewers on Friday, the Cubs fell into their old ways and dropped the next two of the series, including yesterday's 6–0 loss. It was a one-run game through eight innings thanks to Cubs pitcher Jake Arrieta's , but in the end, Chicago's bats fell flat and the Brewers ran away with it. Sigh.
⚽️Soccer: Thanks to the Loyola women's soccer team's third straight Missouri Valley Conference Championship, the Ramblers for the NCAA Tournament. Loyola's quest for the National Championship starts tomorrow, when they take on the Denver Pioneers in the first round at 3 p.m. ET/2 p.m. CT.
After watching the Ramblers, catch the Red Stars' last NWSL Challenge Cup game tomorrow at 10 p.m. ET/9 p.m. CT against the OL Reign.
Given that the Thorns have already clinched the group's slot in the championship match, we'll settle for this game being a fun primer for the Red Stars' regular season, kicking off next month.
⚾
🏀
⚽
LA: And the Oscar goes to...
April 26, 2021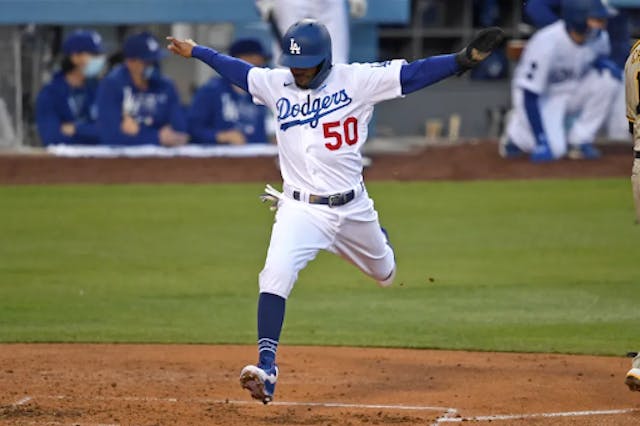 Source: Jayne Kamin-Oncea/USA TODAY Sports
⚾️Dodgers: We kept for every at-bat of this fiery rivalry series, but unfortunately the Dodgers faltered yesterday, losing 8–7 in extra innings to drop three of four games to the San Diego Padres. in the hearts of Dodgers fans everywhere.
🏀Lakers: Anthony Davis returned to the court on Thursday, but his presence to jumpstart the Lakers, who lost back-to-back games to the Dallas Mavericks. The Lakers are still fifth in the Western Conference, but they're just one and a half games ahead of the aforementioned Mavs. Too close for comfort.
⚽️Galaxy: The Galaxy beat the New York Red Bulls 3–2 yesterday, thanks to a from forward Javier Hernández (aka Chicharito). But midfielder Sebastian Lletget (pronounced leh-JET) was missing from the pitch: MLS issued him a on Saturday for his use of an anti-gay slur, which he subsequently apologized for. The right call.
⚽
🏆
🏀
Louisiana native Kim Mulkey is heading home
April 26, 2021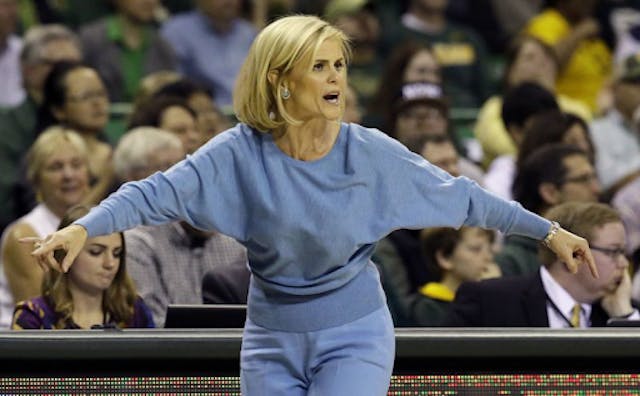 Source: LM Otero/AP
🏀Basketball: Louisiana native Kim Mulkey is heading home. The Baylor women's head coach is after 21 seasons and three NCAA championships. Mulkey turned Baylor from a team who had never made March Madness into a team that missed it only once in two decades, and since LSU hasn't advanced past the first round since 2014, we're likely in for some similar magic.
⚽️Soccer: The NWSL Challenge Cup group stage is still underway, but Portland Thorns FC have already clinched their spot in the final. The Thorns won all three of their matches so far, and since no other team in the West division can catch them, they'll play in the May 8th final against whoever wins the East...which could be determined by tomorrow.
Gotham FC are currently leading the East, and could clinch if the North Carolina Courage lose to Racing Louisville FC at 6 p.m. ET today, and if they beat the Washington Spirit tomorrow at 7 p.m. ET.
⚽️SoccerFootball: Switching gears to the of the UEFA Women's Champions League semifinals, American Alana Cook for Paris St-Germain (PSG) in the team's 1–1 draw against FC Barcelona yesterday, while Bayern Munich beat Chelsea FC 2–1 in the other matchup. The second leg is set for Sunday, so follow along .
💪UFC: Though much of this weekend's UFC 261 hoopla centered around Chris Weidman's awful leg injury (if you haven't seen it already, ), "Thug Rose" Namajunas and Valentina "Bullet" Shevchenko owned the night. Both MMA stars dominated their respective title fights with , proving that Saturdays are, in fact, for the girls.