⚽

FIFA announces "fan ban" in response to racial incidents

September 22, 2021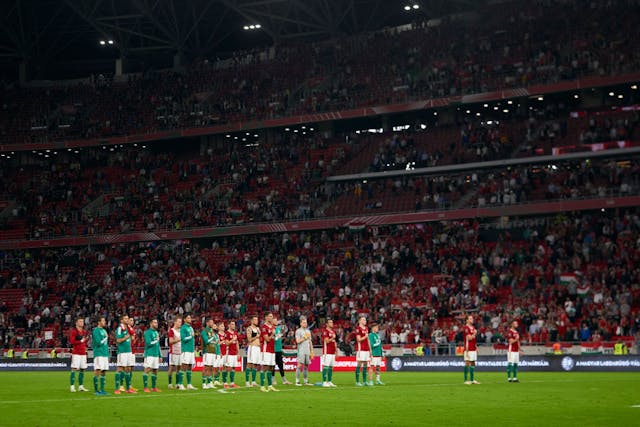 SOURCE: JAMIE SABAU/NHLI VIA GETTY IMAGES
The history: After towards English soccer players during an England vs. Hungary match in Budapest in June, handed down a two-match "fan ban" in July, meaning Hungary's next two home games in European UEFA-sanctioned tournaments will be played without fans (and, consequently, their dollars).
The latest: Unfortunately, that ban () didn't apply to international FIFA-sanctioned events. And September 2nd's World Cup qualifier, again featuring England vs. Hungary, in front of a packed Budapest crowd saw — you guessed it — the "racist behavior of numerous [Hungarian] supporters." Disgusting.
As a result, FIFA — a one-match penalty that will see Hungary host Albania in an empty stadium in October — along with a $217K USD fine. It's not nothing, but it's definitely not enough.
🏀
⚾
⚽
Sports Quick Hits: September 22nd, 2021
September 22, 2021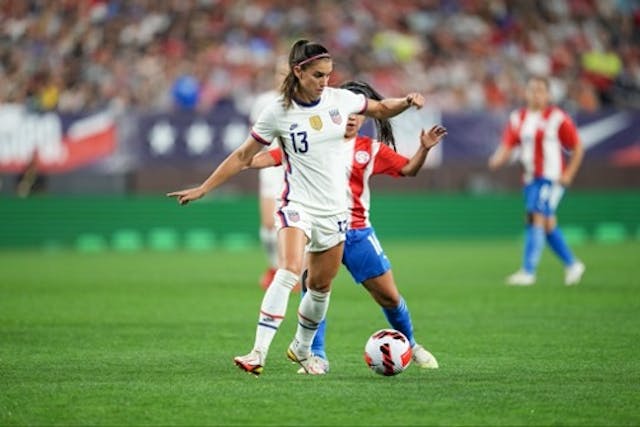 Source: ESPN Stats & Info/Twitter
⚽️USWNT: After last week's 9–0 rout of Paraguay in the first of their September friendlies, the USWNT wasn't any friendlier yesterday, winning 8–0. Alex Morgan notched a hat-trick, Catarina Macario scored twice and Carli Lloyd added another after scoring five goals last week. Sheesh.
🏀NBA: Maybe his was foreshadowing, because Ben Simmons isn't showing up in Philadelphia yet again. After a , Simmons announced yesterday that he will not attend Sixers training camp and has no plans to play in the NBA until he's traded to another team. ?
⚾️MLB: The race for the postseason is in full force, and while teams are calculating their , we have some other milestone numbers for you: St. Louis Cardinals pitcher recorded his 200th career win on Monday, making him just the third active pitcher to reach the mark.
Meanwhile, Kansas City Royal Salvador Perez of the season on Monday, breaking the record for most homers by a catcher in a single season. Get you a player who can do both.
🏀

Playoff spots on the line in WNBA

September 20, 2021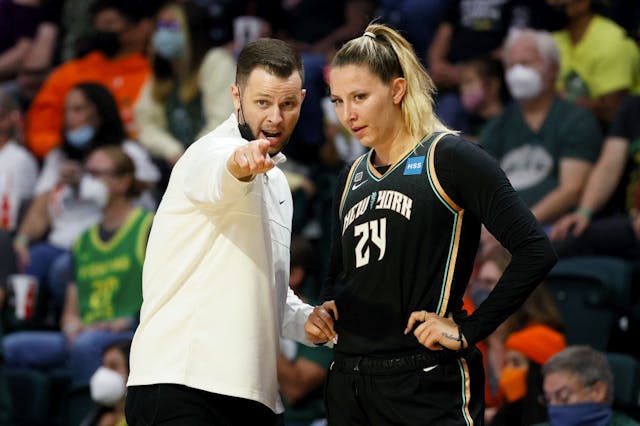 SOURCE: STEPH CHAMBERS/GETTY IMAGES
Weekend recap: Sitting in 10th with no games remaining, the NY Liberty's playoff chances were out of their hands. In order to clinch the final postseason spot, the Liberty needed both the Washington Mystics and the LA Sparks to lose on Sunday...and that's exactly what happened.
The Mystics and Sparks were both downed by playoff bound teams, sending the Liberty to their first postseason since 2017. See, anything can happen in a New York minute.
Postseason preview: The seeding for the playoffs is also now set. The Liberty will face No. 5 Phoenix Mercury while the No. 6 Chicago Sky will take on No. 7 Dallas Wings in Thursday's first-round single elimination (no pressure) games.
The top four teams, including the No. 1 Connecticut Sun — who with a casual 14-game win streak — all earned byes to later rounds. More to come in Thursday's special edition newsletter, of course.
🏈

Recap of all the action from Week 2 of the NFL

September 20, 2021
Source: Toronto Blue Jays/Twitter
👍Highlights: Okay, Buffalo Bills, we see you. The reigning champs put on a show in front of the Miami Dolphins' home crowd yesterday, their division rivals 35–0. In Miami's defense, they lost QB Tua Tagovailoa (pronounced TUNG-o-vai-LOA) early in the game to a . Ouch.
👎Lowlights: Interception (INT) was the name of two games yesterday. NY Jets rookie QB Zach Wilson in the Jets' loss to the New England Patriots, and the Cincinnati Bengals lost to the Chicago Bears as second-year QB Joe Burrow threw three INTs in three consecutive passing attempts. Yikes.
🤕 Injuries: Some of the game's biggest names suffered seriously yesterday. Aside from Tagovailoa, Cleveland Browns wide receiver , Pittsburgh Steelers linebacker , Bears QB and Houston Texans QB all exited their games with injuries. Get well soon!
🏉
⚾
🏈
Sports Quick Hits: September 20th, 2021
September 20, 2021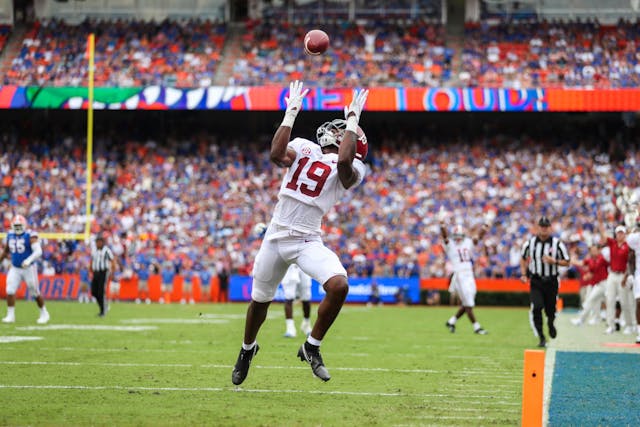 Source: James Gilbert/Getty Images
🎓🏈College football: Week 3 saw plenty of chaos, and the movement in the newly released sure reflected it. After holding on to a narrow 31–29 road victory over Florida, Alabama extended their 17-game win streak and maintained the top spot.
Elsewhere, Clemson and Ohio State — who played each other in last year's — slipped to No. 9 and No. 10, respectively, after wins on Saturday.
⚾️MLB: We're a little under two weeks from the final day of the regular season, and . The American League (AL) race is tightening, with three AL East teams battling for two spots. And over in the National League, the Milwaukee Brewers clinched their fourth consecutive playoff berth with a win on Saturday.
🏉Rugby 7s: Over the weekend, Team USA women's rugby advanced to the finals of the first half of the before falling 34–12 to Great Britain, the squad that ousted them from the Olympics this summer. The second leg of the tourney is slated for next weekend, and revenge is a dish best served cold.