⚽
⚾
🏒
The GIST's Quick Hits - US (May 6, 2021)
May 06, 2021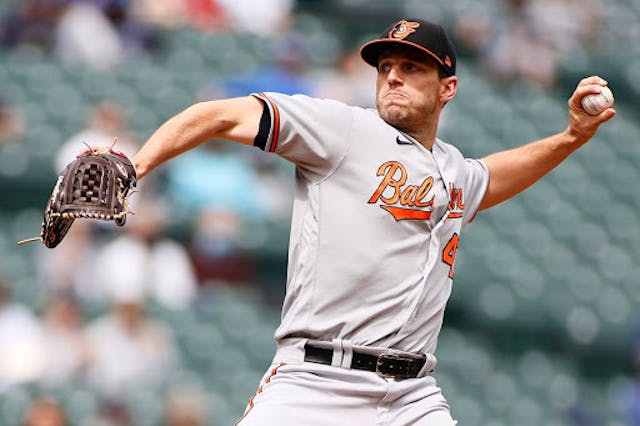 Source: Bleacher Report/Twitter
⚾️Baseball: The hurlers are proving the haters wrong. Following up LA Angels pitcher Shohei Ohtani's incredible , Tuesday saw Atlanta pitcher Huascar Ynoa become the first pitcher to since 2018. Go off.
🏒Hockey: Here's a doozy: On Monday, Washington Capitals right winger Tom Wilson who has a and subsequent disciplinary action — acted severely outside traditional hockey violence boundaries and , injuring him. Wilson was only issued a slap on the wrist $5,000 fine. Um, WTF?
In response, the Rangers put out calling for the firing of the NHL's head of player safety on Tuesday. But on Wednesday, the Rangers made their own firing, with their president and general manager. Didn't see that coming.
⚾️(Minor League) Baseball: Following last year's COVID-19 cancellation, Minor League Baseball (MiLB) returned on Tuesday, 595 days after the last season ended. Highlights from Opening Day include Tampa Bay Rays prospect (and the ) Wander Franco going 3-for-5 in his Triple-A debut, including . What a welcome.
⚽️Soccer Football: USMNT forward Christian Pulisic continues to shine across the pond. His in yesterday's Champions League semifinal helped lift Chelsea to a 2–0 win (3–2 ) over Real (pronounced REY-al) Madrid. Chelsea is the to send their women's and men's teams to a Champs League final in the same season. Bloody cool.
🏀
🏒
D.C.: A lot more than five for fighting
May 06, 2021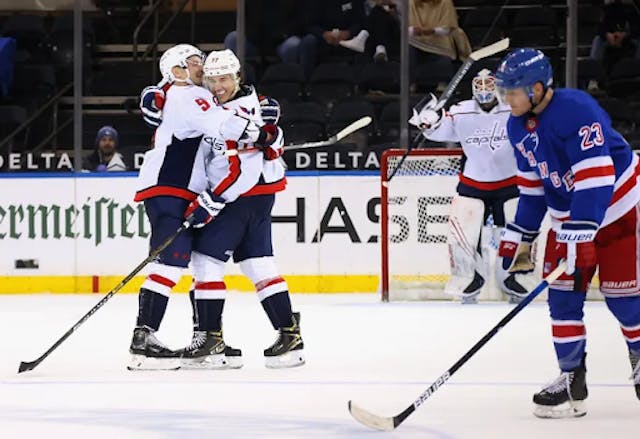 Source: Bruce Bennett, Pool Photos/USA TODAY Sports
🏒Capitals: Capital Tom Wilson's actions in Monday's game led to the chippiness in yesterday's rematch with the New York Rangers. and Wilson with a supposed upper-body injury.
What's next: The postseason. But we still have a lot of questions heading into it. Will captain Alex Ovechkin be healthy? He didn't play last night and left Monday's contest after playing just one shift. Not good.
🏀Wizards: Over on the hardwood, the Wizards lost a tough 135–134 battle to the Milwaukee Bucks last night, making tonight's 7:30 p.m. ET matchup with the Toronto Raptors even more crucial.
The Wiz are one spot ahead of the Raps in the Eastern Conference standings, and both teams are scrambling to grab the . It's showtime.
⚾
⚽
🏈
🏆
Seattle: Speed demon
May 06, 2021
Source: Scott Eklund/AP Photo
🏈👟Seahawks Track: Remember when Seahawk wide receiver DK Metcalf Arizona Cardinal Budda Baker? Well, Metcalf's putting his speed to the test against elite sprinters. He's scheduled to run the 100-meter dash at Sunday's USATF Golden Games and Distance Open at the famed Mt. San Antonio College in California.
⚾️Mariners: The Mariners are the to offer COVID-19 vaccines to fans attending games, and unfortunately that's the only good news coming out of T-Mobile Park. The M's were on the wrong side of history yesterday, getting shut out 6–0 by the Baltimore Orioles en route to Oriole pitcher John Means' first career . Womp.
The 17-15 M's hope the bats awaken from their slumber when they take on the Texas Rangers tomorrow at 8:05 p.m. ET/5:05 p.m. PT.
🎓⚽️Soccer: Although UW women's soccer held No. 2 North Carolina scoreless for two-thirds of the game, the Huskies ultimately fell 1–0 in yesterday's Sweet Sixteen match. Still, what a great run.
The seventh-seeded Husky men hope to fare better in their Sweet Sixteen match today, facing off against Missouri State at 12 p.m. ET/9 a.m. PT. Can the Huskies make it two straight trips to the Elite Eight? Cross your ring and middle fingers.
🏀
⚾
Chicago: The more ya know
May 06, 2021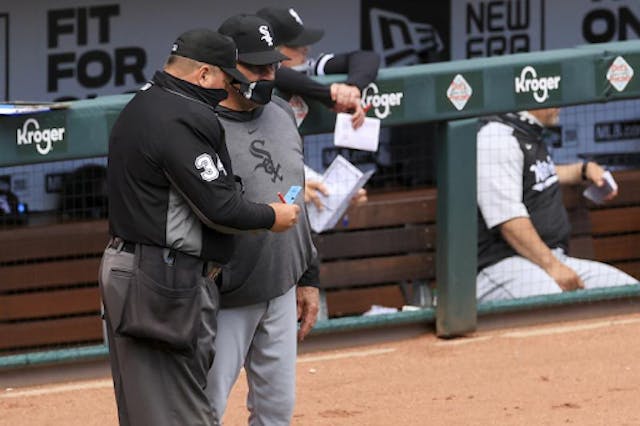 Source: Aaron Doster/AP Photo
⚾️Cubs: The Cubs completed their series sweep of the LA Dodgers, winning 6–5 in extra innings last night. The Cubbies' offense performed well consistently throughout the series, something the North Siders have struggled to do thus far. Fly that W!
White Sox: With two outs at the bottom of the 10th inning, the White Sox had an opportunity to tie the game against the Cincinnati Reds yesterday. Instead, manager Tony LaRussa directed center fielder Leury García to steal second. He was swiftly tagged out, and the South Siders lost 1–0. Y tho?
What makes this puzzling decision even worse? Pitcher Liam Hendriks — who's only been on base twice (!!!) in his career — was on third and could have scored.
🏀Bulls: After missing 11 games due to , shooting guard Zach LaVine is to the court tonight against the Charlotte Hornets at 7 p.m. ET/6:00 p.m. CT. The Bulls have suffered a four-game skid, so hopefully the stud's return will spark a change.
🏒
🏀
Dallas: Wild, wild West
May 06, 2021
Source: The Canadian Press
🏀Mavericks: Thanks to a from Luka Doncic, the Mavs picked up a big 127–113 win over the Miami Heat on Tuesday, helping them hold on to . But the LA Lakers and Portland Trail Blazers are hot on their tails with under two weeks remaining in the regular season. Talk about the wild, wild West.
Dallas will face a true playoff test tonight at 7:30 p.m. ET/6:30 p.m. CT, taking on Kevin Durant and the East's second place team, the Brooklyn Nets. No pressure, no diamonds.
🏒Stars: Center Tyler Seguin gave us something to cheer about, returning to the ice on Monday and from a hip injury. But the fun stopped there as the Stars fell 5–4 to the Florida Panthers in overtime. And there's more bad news where that came from: they dropped yesterday's tilt with the Tampa Bay Lightning, 6–2. Ugh.
Despite the losses, the Stars do still have an () shot at the playoffs, but they'll need to win their last three games to have a chance. Let's go streaking!