🏀
🏒
New York City: Islanders Look to Take Game 5 Over Lightning in Stanley Cup Playoffs
June 21, 2021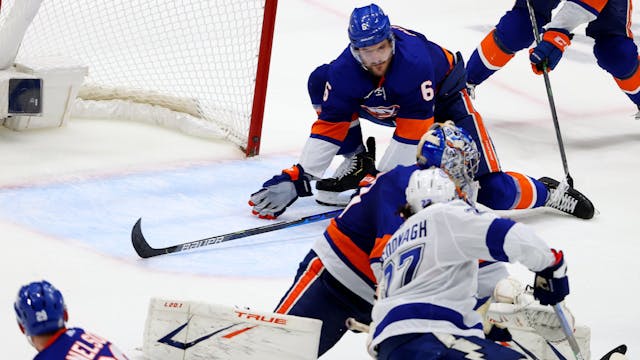 Source: Twitter.com/New York Islanders
🏒Islanders: The Isles have grit galore, and it was on full display in their over the Tampa Bay Lightning on Saturday. Our boys headed into the third period with a 3–0 lead, but the Lightning struck back, quickly notching two goals and hungry for the equalizer.
Enter: Ryan Pulock. In the frenzied final seconds of the game, the defenseman made to stop a buzzer-beater and seal the win. .
🏀Nets: The Nets' buzzer-beater story didn't have as happy an ending. The finalé of their series with the Milwaukee Bucks was absolutely wild, with the two heavyweights of the Eastern Conference going blow-for-blow 'til the bitter end. Kevin Durant , sinking an that instead sent the teams to OT. Our hearts are still pounding.
But you can only hit so many in one night; without much help (read: ) from his bench, KD and the squad fell to the Milwaukee Bucks in a Game 7 heartbreaker.
🔢 Box scores: 🏀The Liberty beat the LA Sparks 76–73 in Sunday's ; ⚽️Gotham FC drew the league-best Orlando Pride 1–1.
🏀
⚾
⚽
Philadelphia: Sixers Head into the Offseason After Disappointing Game 7
June 21, 2021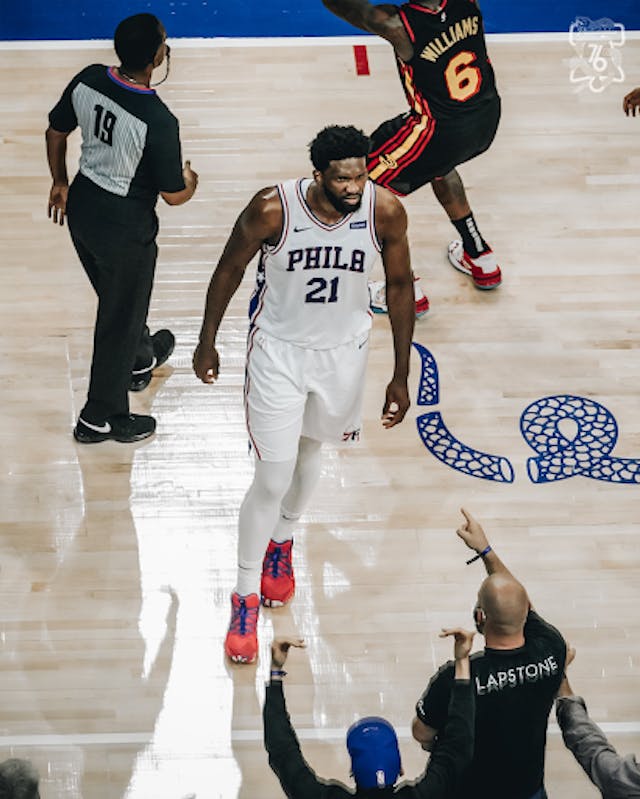 Source: Twitter.com/Philadelphia 76ers
🏀Sixers: From Joel Embiid and Tobias Harris' to Hawks star Trae Young's shooting struggles, the Wells Fargo Center was crackling with confidence last night. Though the teams were neck-and-neck through the whole game, we thought that No. 1-seed swag would help pull our Sixers through and seal them a spot in the Eastern Conference finals.
But sloppy play, 17 turnovers (yeesh), an unexpectedly good game from Hawks guard and a disappointingly ineffective Ben Simmons let the Hawks steal this one .
🔢 Box Scores: ⚽️The Union drew with Atlanta United FC yesterday thanks to defender Jakob Glesnes' ; ⚾️The Phillies fell 11–2 to the league-leading San Francisco Giants yesterday.
⛳
🏎
🏒
Sports Quick Hits: June 21st, 2021
June 21, 2021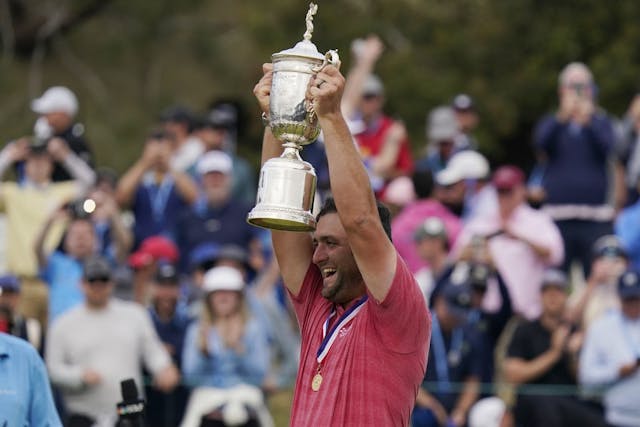 Source: ESPN Stats & Info/Twitter
⛳️Golf: Spaniard Jon Rahm won his first major yesterday, the U.S. Open, with a 6-under-par score, beating out the likes of Louis Oosthuizen (pronounced OOST-hay-zen), Brooks Koepka (pronounced KEP-ka) and Rory McIlroy. Not a bad way to spend your .
🏒NHL: Things are all tied up over in the Stanley Cup semifinals, with both series — Tampa Bay Lightning vs. New York Islanders and Montreal Canadiens vs. Vegas Golden Knights — tied at 2-2. TikTokers aren't the only ones with .
🏎F1: Red Bull Racing's Max Verstappen found his wings during the second-last lap of yesterday's French Grand Prix, when he passed reigning champ Lewis Hamilton and won his third race of the season. Next up is a double-header in Austria, where the W Series season is also set to start (more about that Saturday *wink wink*).
⚾
🏀
Los Angeles: Disappointing Result for Clippers in Game One
June 21, 2021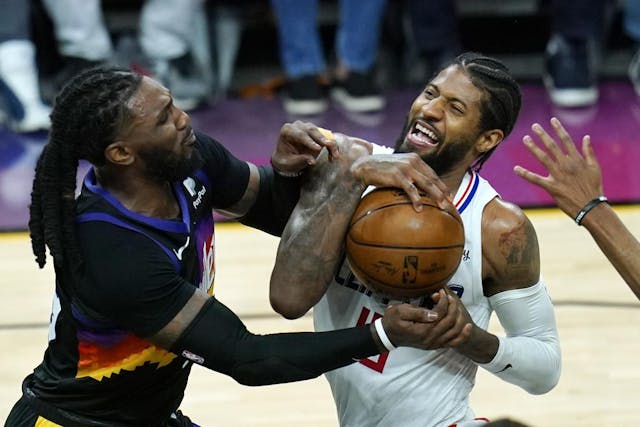 Source: Ross D. Franklin/AP Photo
🏀Clippers: Yesterday, less than 48 hours after dispatching the Utah Jazz in an emotional Game 6, the Clippers faltered at the finish of Game 1 in the Western Conference finals. Terance Mann cut the Clips' deficit to two with , but the Phoenix Suns rallied, taking it 120–114.
With stars Kawhi Leonard (sprained knee) and Clipper-turned-Sun Chris Paul (health and safety protocols) out, it was Paul George dueling Phoenix's Devin Booker. George scored 34 points, but Booker couldn't be tamed with a massive 40-point .
🏀Sparks: The Sparks couldn't close out either, falling to the NY Liberty 76–73 in yesterday's . LA was denied the opportunity to win not just , but , by Liberty Rebecca Allen in the waning seconds. Sigh.
⚾️MLB: Angel two-way sensation Shohei Ohtani keeps showing out. He announced Friday that he will participate in the on July 12th...before promptly smashing that night, on Saturday and then yesterday to tie for the MLB home run lead with 23. Somethin' special.
Meanwhile, the Dodgers almost embarrassed themselves, but with a series sweep, handing the Arizona Diamondbacks their 17th straight loss yesterday. Phew.
⚾
🏀
⚽
Washington D.C.: Spirit Forward Makes History as Highest Profile Japanese Trans Athlete
June 21, 2021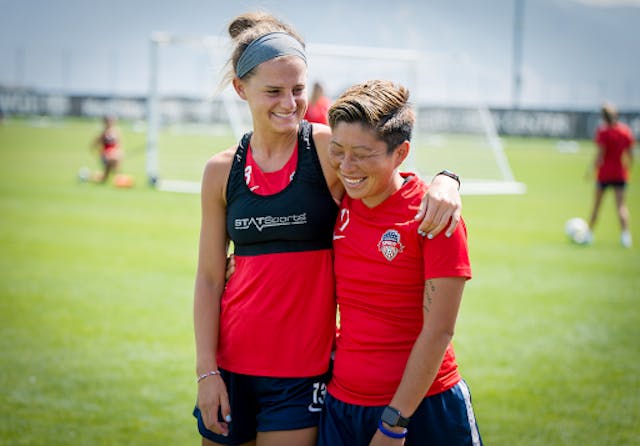 Source: Washington Spirit/Twitter
⚽️Spirit: Although forward Kumi Yokoyama didn't play in the Spirit's , they still made history on Saturday. Yokoyama became the highest-profile Japanese trans athlete when they as a trans man on the YouTube channel of fellow Japanese player Yuki Nagasato. BFD.
⚾️Nationals: We're partying like it's 2019. The Nats won a four-game series over the National League (NL) East-leading NY Mets yesterday, powered by the return of fan favorite Gerardo Parra (and ) and by left fielder Kyle Schwarber, who smashed . Oops, he did it again.
🏃‍♂️Rapid recaps:
🎓⚾️UVA baseball opened their College World Series campaign with a bang, shutting out Tennessee 6–0 yesterday. They'll look to carry that into tomorrow's 7 p.m. ET matchup against Mississippi State.
🏀The Mystics beat the league-worst Indiana Fever Saturday, but Natasha Cloud in the second quarter. Make the injuries stop.