⚾
🏀
Sports Quick Hits: July 12th, 2021
July 12, 2021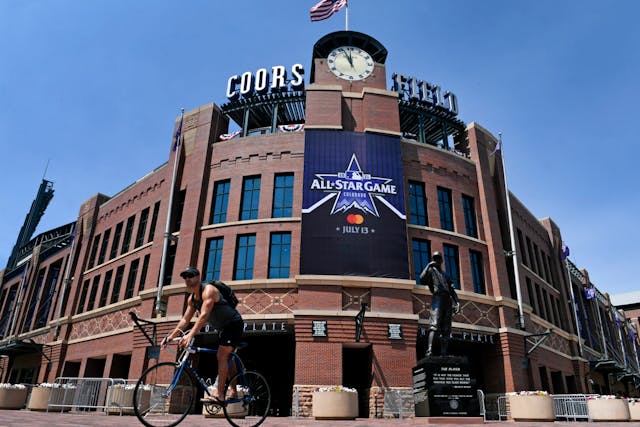 Source: Helen H. Richardson/The Denver Post
⚾️MLB: While the FBI for a safe All-Star Game, Atlanta Braves All-Star outfielder Ronald Acuña Jr. is preparing for surgery. Acuña Jr. suffered a torn ACL in Saturday's 5–4 win over the Miami Marlins, ending his season and dealing the Braves (and let's face it, the league) a huge blow.
Acuña Jr. will be replaced by San Diego Padres third baseman Manny Machado in tomorrow night's All-Star Game, but first up is tonight's Home Run Derby at 8 p.m. ET on ESPN.
🏀WNBA: And speaking of All-Stars, a few legends set some new records ahead of Wednesday's WNBA All-Star Game. On Friday, Seattle Storm's Sue Bird became the first player to reach 3,000 assists in W history, and not to be outshined, Chicago Sky's Candace Parker recorded her 3,000th rebound on Saturday. Hey now!
⚾
🏀
⚽
New York City: Liberty enter Olympic break with disappointing result against Connecticut Sun
July 12, 2021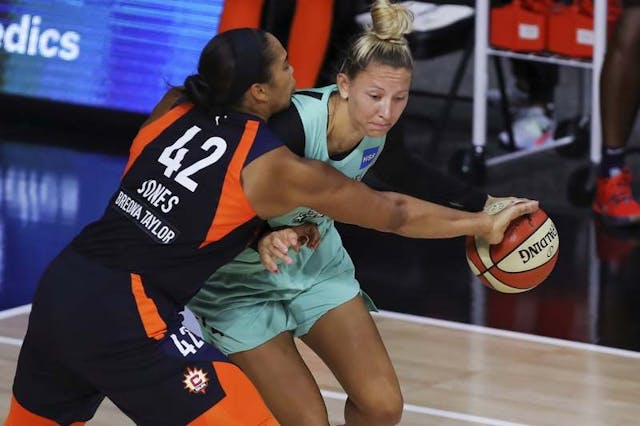 Source: Mike Carlson/AP
🏀Liberty: In yesterday's final game ahead of the Olympic break, the Liberty lost 71–54 to the Connecticut Sun. Though Kylee Shook and Michaela Onyenwere lead the team with 16 and 12 points, respectively, Sabrina Ionescu scored zero points in 21 minutes played — not the young star's typical stat line. Sigh.
⚾️MLB: The Yankees lost to the Houston Astros yesterday, but thanks to their earlier triumphs — including pitcher Gerrit Cole (!!!) in Saturday's 1–0 win — the Pinstripes still took home the 2-1 series victory. That NY state of mind.
Meanwhile, the Mets split their series with the Pittsburgh Pirates 2-2 after their 6–5 loss yesterday. The Mets had a one-run lead until the ninth inning, when the Pirates came roaring back to score two runs and steal the win. Womp.
⚽️Gotham FC: Last night's game against the Portland Thorns ended in a scoreless draw, a very good result against the reigning .
⚾
🏀
Los Angeles: History in the making for Shohei Ohtani
July 12, 2021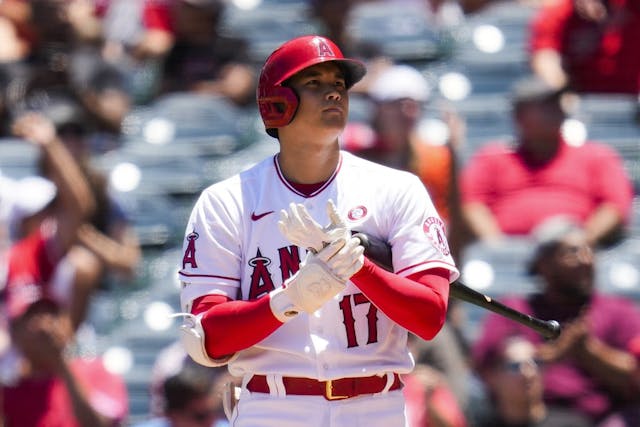 Source: ESPN Stats & Info/Twitter
⚾️Angels: Sure, the Angels lost their weekend series with the Seattle Mariners, but TBH, who cares? It's Sho Time! Shohei Ohtani will take his first step toward MLB history when he competes in tonight's Home Run Derby before completing an unprecedented trifecta when he starts tomorrow's All-Star Game (ASG) as a pitcher and hitter. Legendary.
⚾️Dodgers: The Dodgers blasted a franchise eight home runs, and scored 22 (not a typo!) total runs on Saturday, before adding another seven in yesterday's 7–4 win — all against the Arizona Diamondbacks. And although Mookie Betts will , we're still pumped to watch the and manager Dave Roberts. Get your game on.

🏀Sparks: The injury-plagued Sparks struggled in yesterday's 86–61 loss to the Minnesota Lynx: LA's sixth-straight loss. Womp. And while we sadly don't have any Sparks representing at Wednesday's WNBA All-Star game, we'll be waiting to see if Nneka and Chiney Ogwumike are added to Team Nigeria's Olympic roster. Cross your fingers.
⚾

Philadelphia: Phillies playoff outlook in question

July 12, 2021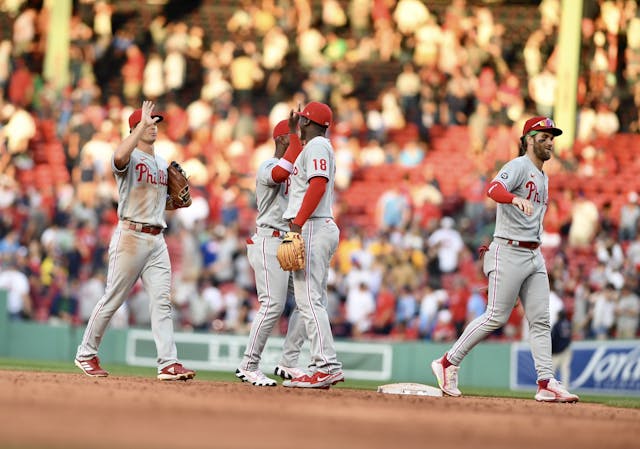 Source: Mike Carlson/AP
Yesterday: Even with a few players — including scheduled starting pitcher Aaron Nola — being due to COVID-19 protocols, the Phillies' bullpen held it together as six different pitchers took the mound to keep the threatening Sox at bay. Teamwork, baby.
October: And while we love a winning weekend, we can't help but worry about the real possibility that this season will extend the Phillies' playoff drought to 10 postseason-less years. To avoid that, the Phils either need to win their division, the National League (NL) East, or earn one of two NL wild-card bids.
Right now, it's likely that two NL West teams will earn both wild-card spots, meaning the Phils probably need to win their division. Though they're now above .500, it's going to be hard to pull ahead of the division-leading NY Mets.
MLB Draft: Looking towards the future, the 2021 MLB Draft began last night, and the Phils selected pitcher No. 13 overall. Keep up-to-date on all the picks .
⚽

Euro trip

July 11, 2021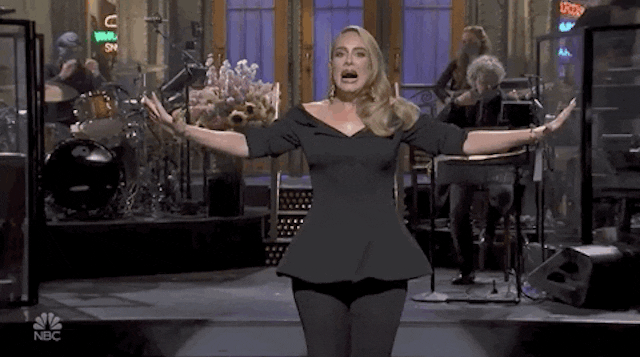 SOURCE: SATURDAY NIGHT LIVE/GIPHY
HAPPY SUNDAY!
Welcome to The GIST's Sunday Scroll, where we dive deep into one timely sports topic.
After one month of tournament action, the stage is set for the 2020 UEFA European Football Championship. Italy will take on England in today's final at 3 p.m. ET, so order a pizza, grab a pint and get "the gist" of the biggest match in European soccer.
⚽️ The background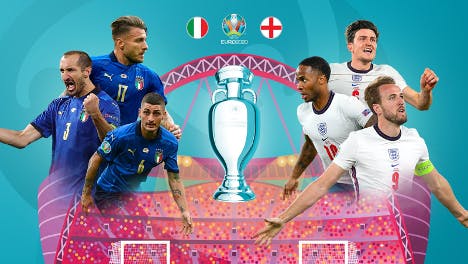 How did we get here? Back in June, 24 national teams kicked off the UEFA European Football Championship — or the Euros, as they're more commonly known. Teams were split into six groups of four and each played in a three-game round-robin group stage.
The top two teams from each group, along with the four best third-place teams, advanced to the knockout stage, which included a round of 16, quarter-finals and semifinals, all leading up to today's final.
Similar to the FIFA World Cup, the Euros take place every four years. The most successful teams in the Euro's 63-year history are Germany and Spain, who have three titles each.
France has two titles while the Soviet Union (now Russia), Czechoslovakia (now the Czech Republic), the Netherlands, Denmark, Greece, Portugal and Italy all have one each.
In over a century of international play, the Italian and English national teams have met 27 times: Italy won 11 times to England's eight, with the remaining eight matches ending in a draw. That said, the two haven't played a competitive match since 2014.
🏟 The location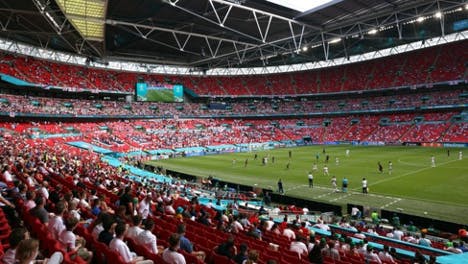 Typically, one or two countries host the entire Euro tournament, but due to COVID-19, 11 countries across Europe hosted this year's group stage competition and the first two knockout rounds. Of the 11 cities, London hosted both semifinal matches and plays host again for today's final at the iconic Wembley Stadium.
Of the 10 nations to have won the Euro final, only Spain, Italy and France did it on home soil: in 1964, 1968 and 1984, respectively. If they're successful, England will be number four.
While the original Wembley was demolished in 2002, the updated venue, which opened in 2007, is the second-largest soccer stadium in Europe, boasting a capacity of 90,000. Similar to the semis, today's match will welcome more than 60,000 fans — the most at any sporting event in the U.K. since March 2020.
🏴󠁧󠁢󠁥󠁮󠁧󠁿 The home team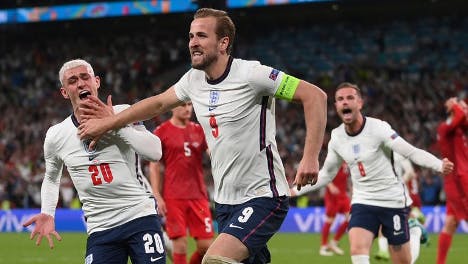 Today marks England's first appearance in a major men's final since they won the World Cup in 1966. The Three Lions are on the hunt for their first-ever Euro title, and on home turf, no less. With 55 years of high expectations, let downs and an infamously rowdy fanbase, England's under pressure to bring it home today.
England entered the tournament as the overall favorite in Group D, going undefeated in group play before securing a 2–0 victory over Germany in the round of 16, and a big 4–0 win against Ukraine in the quarters.
Until Wednesday's semifinal contest, England hadn't allowed a single goal throughout the competition, but Denmark broke that streak with a free-kick late in the first half. Dane Simon Kjær's own goal in the 39th minute then tied things up 1–1.
The second half was scoreless, sending the match into extra time, when a questionablepenalty went England's way and captain Harry Kane capitalized on his own rebound to win the match 2–1 for the home team.
The squad played all but one game in their home stadium, and with their fans (who we don't always agree with) there to cheer them on, the energy should be on their side today.
🇮🇹 The visitors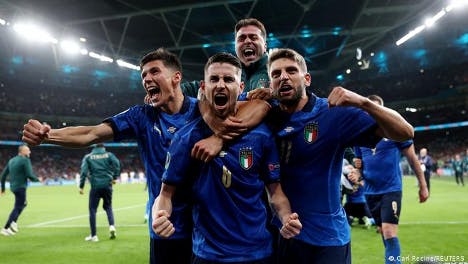 Italy, or the Azzurri, enter today's final riding a 33-game undefeated streak, having not lost a match since September 2018. With a Euro title already under their belt and four FIFA World Cups, the away squad is not to be underestimated.
Also the favorites in Group A, the Italians cruised past Turkey, Switzerland and Wales at home in Rome before earning a close 2–1 win in extra time over Austria in the round of 16, then another 2–1 victory against Belgium in the quarter-final matchup.
Their semifinal against Spain had us on the edge of our seats. The first half was scoreless, but Italy's Federico Chiesa scored in the 60th minute, putting them up 1–0 before Spain answered in the 80th minute and pushed it to extra time.
Both teams failed to score in the extra minutes though, resulting in a dramatic penalty shootout. Ultimately, it was Italy's Jorginho who scored the winning penalty shot and sent the squad to their fourth Euro Championship finals appearance. The drama.
After failing to qualify for the 2018 FIFA World Cup for the first time since 1958, the Italian squad has certainly turned things around in recent years. A victory today would not only add a second title to the nation's Euro tally, but it would also solidify their epic comeback. *chef's kiss*
🏆 Eyes on the prize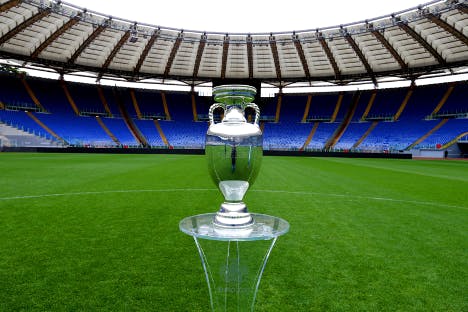 While both teams are competing for continental glory and a shiny new trophy,UEFA set aside a nice chunk of change for the champions, too. Due to a financial setback caused by the pandemic, the initial budget for the tournament was reduced from €370 million ($438 million) to €330 million ($391 million). A drop in the bucket.
As with most tournaments, teams are rewarded based on performance, and the further they go, the more they cash in. All knockout-stage teams took home some cheddar, including the semifinals squads who took home €4 million ($4.7 million).
Having made the final, the Italian and English teams will receive €5 million ($5.9 million) regardless of the outcome, and the winner will cash in an extra €3 million ($3.5 million) bonus. All in a month's work.
Although great, these figures are just a fraction of the FIFA World Cup prize pool.France's 2018 FIFA World Cup win earned them a whopping $38 million reward.
And what can the winners of next July's Women's Euro 2022 championship expect in comparison? Disappointment.
📺 How to watch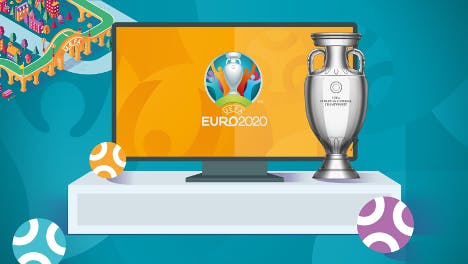 Whether you're rooting for England or Italy, you can catch all the action today at 3 p.m. ET on ESPN and Univision in the U.S. and on TSN and TVA Sports in Canada. And, if you can't stream the match, download the UEFA EURO 2020 app for live updates. Sound gouda?