🏈

Football in DC: From College to the NFL

November 02, 2020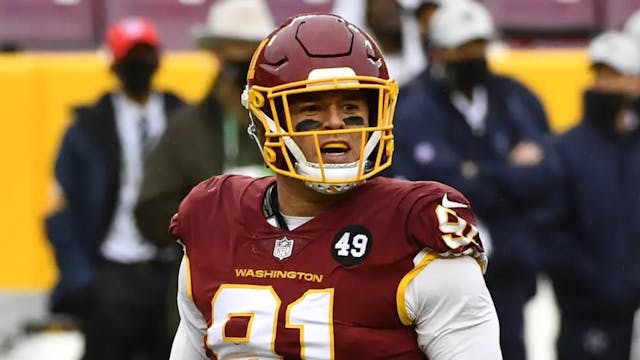 SOURCE: BRAD MILLS/USA TODAY SPORTS
The GIST: In college football, the Maryland Terrapins and Virginia Cavaliers delivered thrillers over Halloweekend. Meanwhile in the NFL, although the Washington Football Team (WFT) had a bye week, the team still brought the drama.
Friday night lights: On Friday, the Terps rebounded from a dreadful season-opener loss with a stunning 45–44 victory over the Minnesota Golden Gophers. Maryland overcame a 17-point fourth-quarter deficit, thanks to Minnesota missing the extra point conversion that would have forced double overtime.
QB Taulia Tagovailoa (yes, Tua's little brother) showed off his versatility in rushing and passing, including what turned out to be the game-winning touchdown. Storm the field!
Break the rock: Not to be outdone, Virginia snapped a four-game losing streak on Saturday with a 44–41 upset over rival No. 15 North Carolina. The Hoos boldly executed a fake punt to secure the win in the South's Oldest Rivalry. Cheeky.
In or out: Over in the pros, WFT defensive end Ryan Kerrigan reportedly requested a trade due to decreased playing time. Drama. But rumor has it, the WFT wants to keep the franchise sack leader in part for his veteran leadership. We'll see what the trade deadline brings.
Someone who we thought was definitely out for the WFT in Week 9 was linebacker Jon Bostic. Following his dangerous helmet-to-helmet hit on Dallas Cowboys QB Andy Dalton last week, Bostic was not suspended and only fined $12,000. SMH. Bostic doesn't have a history of dirty play, but this seems like a light punishment.
🏈
⚾
Bears Lose in OT, White Sox Re-hire Tony La Russa
November 02, 2020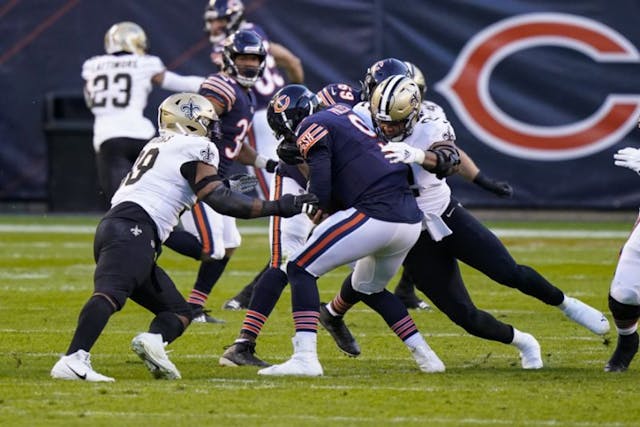 SOURCE: NAM Y. HUH/AP PHOTO
The GIST: The Bears lost 26–23 in overtime to the New Orleans Saints yesterday, finally collapsing under the mounting pressure of their many mistakes. Meanwhile, the White Sox might have made a big offseason mistake of their own.
🏈Third quarter isn't the charm: Heading into the locker room at the half, da Bears were looking pretty good, leading the game 13–10. But it was the back half of the game, namely the third quarter (classic) which featured a reckless fistfight instigated by wide receiver Javon Wims, that proved to be the problem. Despite an ugly second half, the Bears miraculously tied it up to force an overtime...before the Saints took the W with a field goal. Sigh.
While the Bears' defense struggled at times, it stepped up when it really needed to. QB Nick Foles and his offense, however, never seemed to find their groove. We didn't think we'd ever say it, but, we might miss Mitch Trubisky.
⚾️From nursing home to dugout: The White Sox announced on Thursday that Hall of Famer Tony La Russa will become the South Siders' new manager...again. La Russa is 76 years old and previously managed the Sox way back from 1979-1986. Although he's a tenured manager, he hasn't managed a team since the St. Louis Cardinals in 2011, which leaves Sox fans wondering...why tho?
The White Sox are a young, brash team who finally seem to have a personality of their own, and this decision feels like an attempt to bring back the ghost-of-White-Sox-past. That said, there is speculation that Sox owner Jerry Reinsdorf made the executive decision on this one because of his long-time friendship with La Russa, but you didn't hear it from us.
🏈

Jets 2021 Draft Preview

October 29, 2020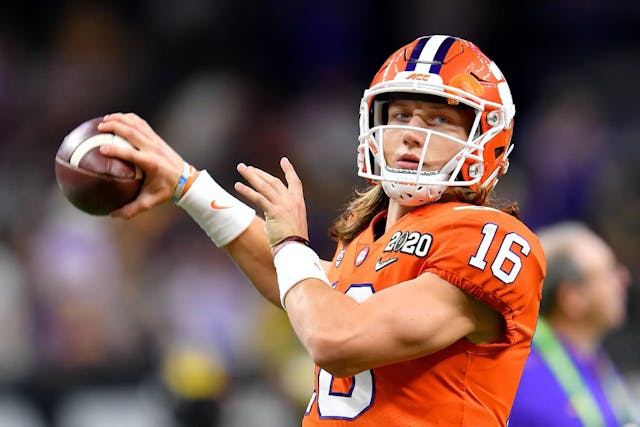 SOURCE: ALIKA JENNER/GETTY IMAGES
The GIST: The 0-7 Jets are facing the Kansas City Chiefs this weekend, and it's almost guaranteed to be a blowout. So instead of diving into that mess, let's focus on what could be the future of the Gang Green.
Tank for Trevor: It would take a miracle to save the abysmal Jets from finishing towards the bottom of the league come January, so it's time to start talking about the 2021 draft. Each team gets a pick every round (unless they've traded it), but the order of the first 18 picks is determined by the regular season standings. Meaning the Jets might actually place first in something.
The No. 1 overall draft pick is always a superstar and often a quarterback (QB), like Joe Burrow and Kyler Murray the last two years. Prospects must be out of high school for at least three years to be eligible for the NFL draft — and you know who's in the midst of his third year? Clemson Tigers QB Trevor Lawrence.
Generational superstar: Lawrence shot into the spotlight during the 2018-2019 season, when he became the first true freshman QB to lead his team to a national title since 1985. He's continued to get better each year, taking the Tigers to the National Championship game last season and yet again leading an undefeated Clemson team this year.
Decisions, decisions: Recently engaged Lawrence is from Football Country, Georgia and has been looking forward to his shot at the NFL since high school. But thanks to the Jets' inability to put together a functional football team, some of his recent comments indicate he'd consider staying at Clemson for his senior year over being drafted by the Jets. Yikes.
While the choice is in Lawrence's magical football hands, J-E-T-S Jets fans can only hope the big time in the Big Apple will allure him.
⚾

Reliving Nationals' 2019 World Series Win

October 29, 2020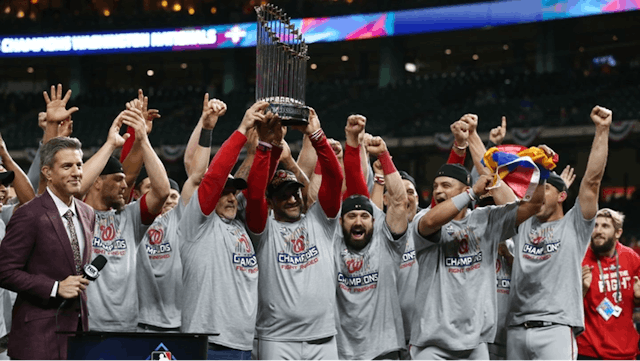 SOURCE: TROY TAORMINA/USA TODAY SPORTS
The GIST: With the Washington Football Team on a bye this week, take a walk down memory lane and reminisce about the Nationals' thrilling 2019 World Series run. Oh, happier days.
Reliving the moment: The Nats started last season poorly with the now-famous 19-31 record, before turning it around to grab a National League wild card spot. The comeback kids kept us on the edge of our seats when they staved off elimination not once, not twice, but five times in the postseason. Our nail beds are just starting to recover.
It culminated in the Nats' first World Series title, with all four wins (including an epic Game 7) happening on the road against the Houston Cheaters, er, we mean Astros. Bring back those joyous champagne-soaked times.

Unfortunately, the District was deprived of a proper World Series celebration this year at Nationals Park. Sigh.
Back to the present: After a lackluster, injury-filled, playoff-less 2020 season, the Nats are hurting. Key players from last year's title run have already departed. Others are now hitting free agency. And some players, unsurprisingly, had their option declined (where the team chose not to sign the optional years at the end of their contracts) by the Nats yesterday.
All this doom and gloom aside, with budding star left fielder Juan Soto, 2019 World Series MVP pitcher Stephen Strasburg on the mend from surgery and shortstop Trea Turner hopefully receiving an extension, fingers crossed the future is brighter.
If you're missing Nats Park, good news: it's serving as a voting center through Election Day. Head over to cast your vote!
⚽
🏈
🏀
Bits & Bites: This Week in the MLS, NFL, NBA
October 29, 2020
SOURCE: MLS/TWITTER
⚽️Soccer: Already missing major league playoffs? Same. Luckily, the MLS is coming to our rescue. With four match days remaining in the regular season, 12 teams have clinched playoff spots out of the available 18. What's more surprising is that no team has been officially eliminated from contention yet, meaning every game counts. Follow all the excitement here.
🏈Football: Imagine how odd a Super Bowl without fans would be? The NFL can't imagine it, so they're hoping to allow spectators into football's biggest event. Super Bowl LV (Roman numeral speak for 55) is set for February 7th, and the league is aiming for 20% capacity at Raymond James Stadium in Tampa, Florida (though who knows if that will actually work out, because...well, it's Florida).
🏀Basketball: After a successful season in the bubble, we wouldn't be surprised if the NBA tries a limited capacity audience, too, if only to recoup some lost revenue. The league reported a 10% revenue drop during the 2019–20 season, including $800 million from ticket sales. They still made around $8.3 billion, though, so we can't feel too bad for them.
And speaking of next season, turns out the previously proposed mid-December start was poorly received by teams, so a new collective of players is pushing for a January 18th start date. Not only would this allow for a more feasible preseason, but it would also have the season tip off on Martin Luther King Jr. Day. Love that for you, NBA.