🏀

D.C.: Dancing away with our hearts

March 22, 2021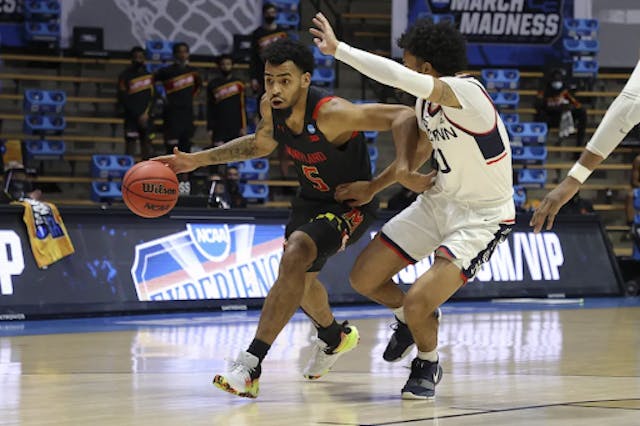 Source: Gregory Shamus/Getty Images
MBB: With seven men's teams in the first round of March Madness, we were hopeful about the DMV's chances...then only one team advanced to the second round. And that was 10-seed Maryland who took down 7-seed UConn, setting up a second round date with 2-seed Alabama tonight at 8:45 p.m. ET. At least we have the Terps.
WBB: Elizabeth Kitley's 23-point performance helped 7-seed Virginia Tech hold off 10-seed Marquette 70–63 in yesterday's first round matchup. No nerves in the Hokies' first March Madness appearance in 15 years.
The other three DMV schools play in the first round tonight: 13-seed VCU vs. 4-seed Indiana at 2 p.m. ET, followed by an Old Line State showdown between 2-seed Maryland and 15-seed Mount St. Mary's at 4 p.m. ET. Dancing queens.
🏀

Dallas: Keep it 100

March 22, 2021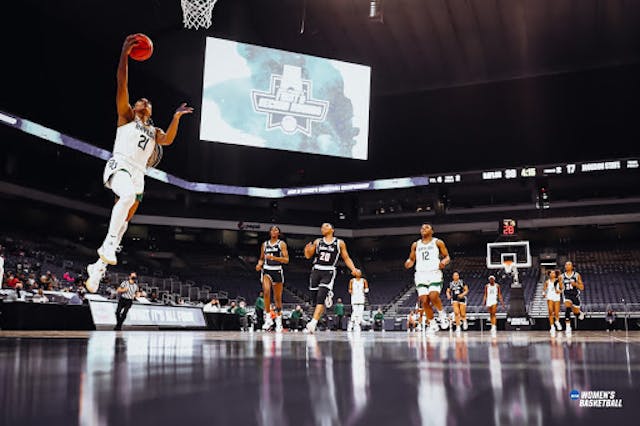 Source: NCAA WBB/Twitter
🎓🏀WBB: With the women's tourney being held in Texas, No. 2 Baylor clearly felt right at home, handling No. 15 Jackson State with ease in a 101–52 blowout yesterday. Sheesh. Meanwhile, No. 12 Stephen F. Austin nearly pulled off a first-round upset, falling 54–52 in overtime to No. 5 Georgia Tech. .
Even more Texas teams are in action today, including No. 2 Texas A&M against No. 15 Troy at 6 p.m. ET/5 p.m. CT, followed by No. 6 Texas and projected No. 1 WNBA draft pick Charli Collier vs. No. 11 Bradley at 8 p.m. ET/7 p.m. CT.
MBB: Our hometown teams provided two of the tourney's biggest upsets so far, with No. 13 North Texas pulling out a convincing 78–69 opening round win over No. 4 Purdue on Friday. But, the Mean Green sadly couldn't keep the magic going yesterday, falling 84–61 to No. 5 Villanova.
No. 14 Abilene Christian was responsible for the other upset, defeating No. 3 Texas in a 53–52 thriller on Saturday. They'll look to continue their Cinderella story in tonight's 5:15 p.m. ET/4:15 p.m. CT battle with No. 11 UCLA. No pumpkins here, please.
And in not at all surprising news, No. 1 Baylor breezed through their first two contests, punching their ticket to the oh so Sweet Sixteen. Saturday can't come soon enough.
🏀Mavericks: The Mavs rebounded from their Friday loss to the Portland Trail Blazers, earning a 132–92 win over the 'Zers last night and continuing their slow climb in the . Next up, the Mavs will face the last-place Minnesota Timberwolves Wednesday at 8 p.m. ET/7 p.m. CT. Let's keep it rolling.
🏀

Men's March Madness: Livin' on a prayer

March 22, 2021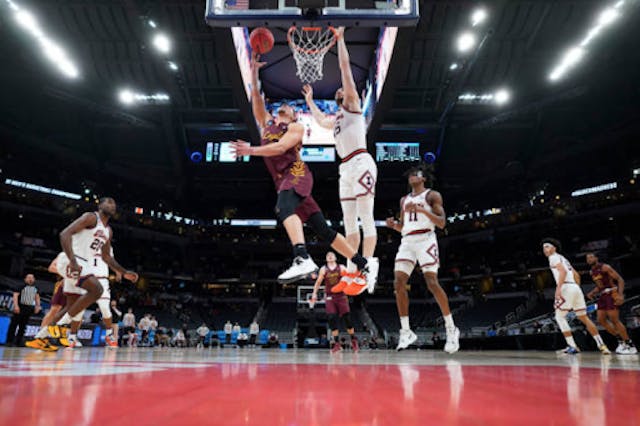 Source: Jack Dempsey/NCAA Photos via Getty Images
The upsets: Indianapolis? More like upset-tropolis. After five (!!!) top-five seeds lost in the opening round, the hits kept coming in the second round with No. 1 Illinois — a favorite to win the entire tourney — losing 71–58 in yesterday's intrastate battle to No. 8 Loyola-Chicago. .
No. 11 Syracuse joined the party, toppling No. 3 West Virginia 75–72 yesterday, clinching their 24th Sweet Sixteen appearance, and their 20th under head coach Jim Boeheim in the process. Who knew March was prime season?
And No. 15 Oral Roberts followed up their huge first round upset over No. 2 Ohio State with another, defeating No. 7 Florida 81–78 yesterday to become only the second 15-seed to make the Sweet Sixteen. We love a Cinderella story.
COVID-19: ICYMI, on Saturday, the first round matchup between No. 7 Oregon and No. 10 VCU was declared a no-contest due to COVID-19 protocols for VCU. Under the NCAA's pre-determined COVID-19 plan, Oregon automatically advanced to the next round.
What to watch: Second round action continues later today. We'll have our split screens on all day, TBH, but the game we're most excited for is the 6:10 p.m. ET matchup between No. 5 Creighton and No. 13 Ohio.
No. 12 UCSB took Creighton down to the wire in the first round, with the Bluejays pulling out a 63–62 nailbiter. Meanwhile, Ohio pulled off a huge win, defeating defending champion, and No. 4, Virginia 62–58. Upset alert, round two, baby.
🏀

Chicago: It wasn't over…it still isn't over

March 22, 2021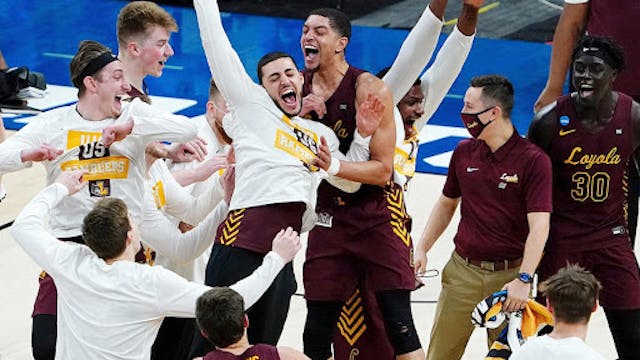 Source: CBS
🎓🏀The battle of Illinois, MBB: We're still stunned by the No. 8 Loyola Chicago Ramblers' over the U of I Fighting Illini yesterday. Despite high hopes following a stellar regular season, the Illini became the first No. 1 seed to fall — and it wasn't really even close.
Loyola led for over 38 minutes of the game and came away with a 71–58 win. Their tough defense stifled U of I's starpower, limiting superhero NBA prospect Ayo Dosunmu to only nine points.
WBB: Jumping over to the women's tournament, the No. 7 Northwestern Wildcats are ready to kick off their own March Madness run vs. the No. 10 UCF Knights. Tip off's tonight at 4 p.m. ET/3 p.m. CT.
🏀Sky: Hey Google, play "" by Kanye. After one season with the Dallas Wings, Astou Ndour is . The forward played what she says was "her best game" with the Sky during the 2018 and 2019 seasons, and she's happy to be back in the Windy City where she feels "comfortable on the court and off the court." Same, Astou, same.
🏈
🏒
Boston: Rumor has it
March 22, 2021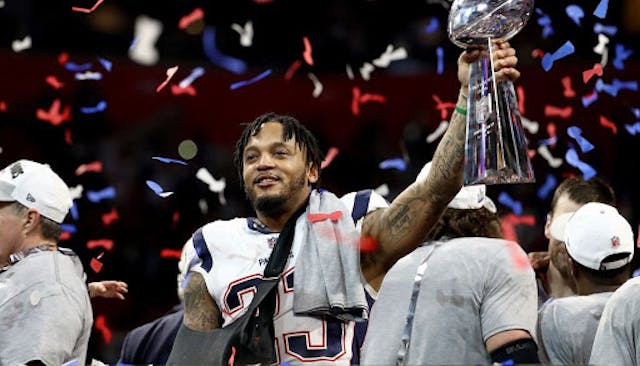 Source: Getty Images
🏈Patriots: The NFL free agency period has been open for less than a week, but the Pats have already spent owner Robert Kraft did when he bought the team in 1994. Talk about .
The trend continued late last week, when they re-signed two-time Super Bowl champ and multi-year captain, center David Andrews to a four-year deal. Money well spent.
🏒College hockey: As mentioned, the Northeastern women came up just short in their , losing Saturday night's NCAA women's ice hockey championship in a 2–1 overtime battle with Wisconsin. We can't wait to see the Huskies back on the ice next season.
BU also scored an at-large bid and will compete as the No. 3 seed...in the same region as B.C. Cross your fingers for two first round wins and clear your schedule for a potential rivalry matchup on Sunday at 5:30 p.m. ET.