⚽

We aren't the champions

April 19, 2021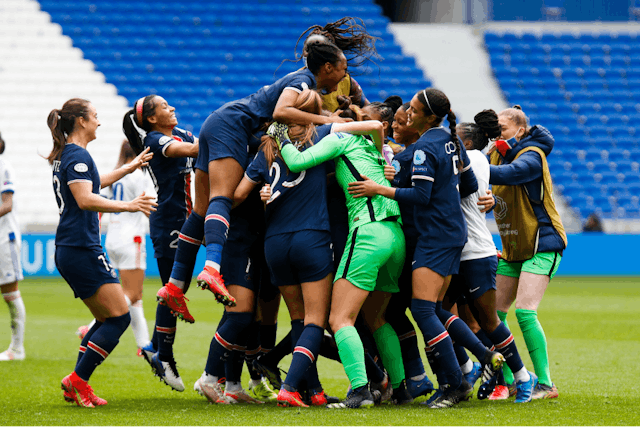 Source: UEFA Women's Champions League/Twitter
The GIST: While the NWSL and MLS seasons are trucking along (check out the NWSL's schedule here with USWNT and CanWNT players returning this week, and the MLS opening weekend scores here), there's major drama on and off the soccer football pitch across the pond.
On field: Lyon's Women's Champions League (UWCL) streak will end at five trophies. The heavily favored defending champions were upset2–1 in the second leg of the UWCL quarterfinals this weekend by their domestic rivals, Paris Saint-Germain (PSG).
The match was postponed for over two weeks while Lyon dealt with a COVID-19 outbreak, but they were back to full strength yesterday. No excuses!
PSG will face Barcelona in the semifinals, while Bayern Munich will meet Chelsea. The first leg of the semis starts on Saturday, and you can follow along here.
Off the field: The men's Champions League (UCL), on the other hand, is in peril after 12 of Europe's top teams — including Barcelona, Juventus, Manchester City and Manchester United — announced plans to split from the UCLand start their own European Super League (ESL). Oh sh!t.
Why? Well, despite generating the majority of the revenue, these powerhouse clubs currently split UCL gains between allparticipating teams. And after pandemic-induced financial blows, the proposed ESL would give teams more autonomy and financial control.
But the news has not been well received. Every football association the 12 teams belong to, including UEFA and FIFA, has condemned the ESL and threatened to ban the teams and players from participating in any other competition. Fighting words.
🤸
🏐
🥎
🏈
Too much rock for one hand
April 19, 2021
Source: Michigan Women's Gymnastics/Twitter
🤸‍♀️Gymnastics: As we mentioned, the Michigan Wolverines flipped their way to the school's first-ever women's gymnastics title on Saturday, posting a team record 198.2500 to dethrone defending champs Oklahoma. Abby Heiskell took clutch to a new level when she with the title on the line, scoring a 9.9250 to .
🏐Volleyball: The has been serving up the fun, with a handful of upsets so far. Beginning today at noon ET, eight teams head to quarterfinal action. We'll be watching unranked Pittsburgh, who pulled off a huge upset over No. 3 Minnesota in yesterday's regional semis, to advance to their first-ever regional finals. Digging it.
🥎Softball: No. 1 Oklahoma picked up their 40th (!!!) consecutive win Saturday with a massive 9–0 victory over No. 7 Texas. The Sooners have been unstoppable this season, blasting an average of three home runs per game. Their next victim? The previous NCAA softball win streak of .
🏈Football: Former Clemson quarterback (QB) and presumptive No. 1 NFL draft pick Trevor Lawrence made headlines when his was published last week. The star QB's comments included: "It's not like I need [football] for my life to be okay I want to do it because I want to be the best I can be."
While that sentiment read as refreshingly healthy and self-aware to us, some football fans were not happy with what they perceived as a lack of commitment.
But Lawrence saying: "I have a lot of confidence in my work ethic….That being said, I am secure in who I am….I don't need football to make me feel worthy as a person." Pretty mature for a 21-year-old.
🏐
🏆
⚾
⚽
Philadelphia: Doin' a little East Coast Swing
April 19, 2021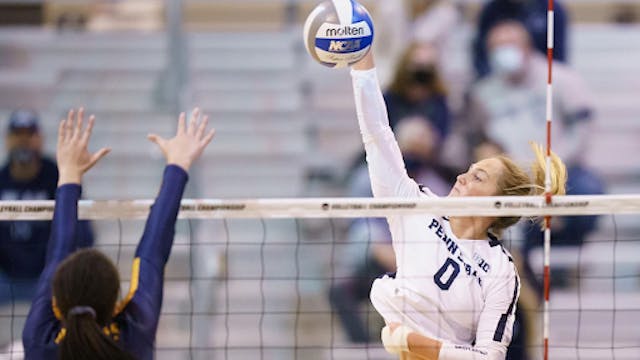 Source: Mark Kulhmann/NCAA Photos
🎓🏐🥍College: After a hard-fought loss in the Sweet Sixteen to the Texas Longhorns yesterday, the Penn State women's volleyball team's dreams of a national championship are over. Though the Nittany Lions came out firing and took the first set, Texas' height and offensive power outlasted Penn State's scrappy defense.
⚾️Baseball: The Phillies beat the St. Louis Cardinals yesterday, closing out their weekend series 2-1. Pitcher Aaron Nola held the mound for all nine innings, allowing only two hits in his first complete game. Love to see it.
⚽️Union: Despite threatening to score many times throughout the match, the Union's MLS opener ended in a against Columbus Crew FC yesterday. Playing the defending MLS Cup champions so close and keeping them off the score sheet is a great start to the season.
🏀
⛳
The GIST's Quick Hits (April 19, 2021)
April 19, 2021
Source: Marco Garcia/Associated Press
⛳️Golf: Lydia Ko's drought ended this weekend. The former world No. 1 won her first LPGA event since April 2018 — the Lotte Championship in Hawaii — and she did it in style. The New Zealander set a new tournament record with a 28-under par score, seven strokes ahead of the four runners-up.
🏀Basketball: Is it WNBA time yet? The draft is over (and it was!), the , and Seattle Storm superstar Breanna Stewart is . Stewart spent her offseason playing in the Euroleague, and like the star she is, won the championship and the Final Four MVP title. Naturally.
😷COVID-19: This virus isn't going anywhere fast. The MLB last week, the NHL three Colorado Avalanche games, and the LA Lakers to the White House. Meanwhile, more than half of all NFL teams voluntary offseason workouts (set to start today) due to lacking safety protocols. Uh yeah, good call.
⚾
🏀
🏒
D.C.: Through the looking glass
April 19, 2021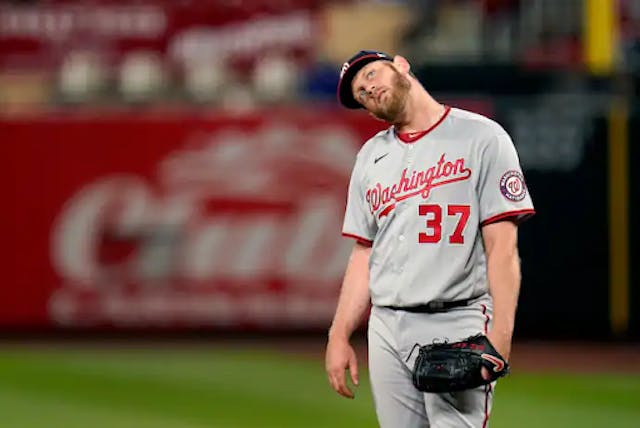 Source: Jeff Roberson/AP Photo
⚾️Nationals: After splitting their Thursday-Sunday series 2-2 with the Arizona Diamondbacks, the Nats now hold a 5-8 record. But more concerning than yesterday's 5–2 loss are the rapidly accumulating injuries. Star pitcher Stephen Strasburg — who was scheduled to start yesterday — was with shoulder inflammation. Eek.
That's not all. Relievers Wander Suero (strained oblique) and Luis Avilán (torn elbow ligament) are also dealing with health issues. And here we thought 2021 was going to be better.
🏀Wizards: The very streaky Wizards will look to extend their four-game winning streak tonight against the Oklahoma City Thunder — and every one of the Wiz's remaining 16 games counts. They're currently neck-in-neck with the Chicago Bulls and Toronto Raptors for 10th in the .
🏒Capitals: The Caps dropped a to the Boston Bruins yesterday. Despite the loss, the Caps are still atop the East Division with 10 regular season games remaining. If the started today, their first-round opponent would be the Bruins. Spicy.