DAZN: Grab the remote
May 23, 2022
MARCO CANONIERO/LIGHTROCKET VIA GETTY IMAGES
The GIST: Saturday's UEFA Women's Champions League (UWCL) final marked the end of DAZN's first year broadcasting the tournament. The day before Lyon's big win, DAZN VP of rights partner relations Katie Smith broke down the data on why the streamer is confident that its tourney coverage will drive paying subscribers.
The details: Though numbers for the final aren't yet in, the semis saw DAZN's YouTube subscription rates rise from 275K to 319K as six million tuned in to the matches for free. The streamer's dedicated YouTube channel helped unlock major markets — the top five for viewership this season were the U.S., the U.K., France, Spain and Germany.
DAZN aired all 61 UWCL games this season to over 230 countries and territories on both YouTube and its paid platform. Of that audience, 55% were aged 18–34 and a whopping 80% were men. Who says men don't watch women's sports?
Zooming out: DAZN's deal to air the UWCL aligns with its larger strategy of acquiring local rights to niche sports. The company also stands out in the uber-competitive streaming world by intentionally growing its platform via women's sports.
It's a strategy that should pay dividends: A 2021 study found women's sports fans to be more innovative and engaged than their counterparts in men's sports. But are you really surprised?
🏀

WNBA: Banking on digital coin

May 23, 2022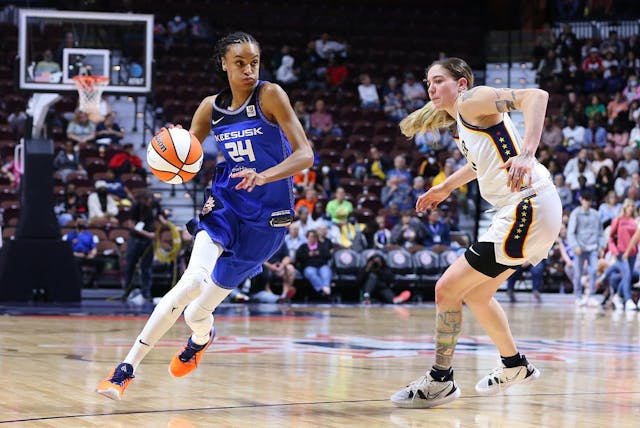 M. ANTHONY NESMITH/ICON SPORTSWIRE VIA GETTY IMAGES
The GIST: Coinbase is doubling down on the WNBA. On Thursday, the crypto exchange platform announced a new wave of partnerships with various league stakeholders, after the brand became a partner with the W in October. The move solidifies Coinbase's bet on basketball and furthers the WNBA's presence in the world of blockchain.
The context: Coinbase initially became the first crypto partner of the WNBA and NBA in the fall. Through that original deal, the platform became the W's exclusive crypto platform, and the first presenting partner of the Commissioner's Cup.
Those weren't the only agreements Coinbase made in Q4. The company also became the presenting partner of USA Basketball's women's and men's national team exhibition tours.
The new deals: The platform will now sponsor the Players Association (WNBPA), the New York Liberty, the Seattle Storm, and Storm troopers players Sue Bird and Jewell Loyd. The WNBPA partnership will provide perks for all players: Coinbase will set up accounts — with free crypto — for all 144 ballers.
Players will also have access to crypto education from Coinbase experts, with the rookies getting a head start — this year's first-round draft picks learned about digital currency and NFTs at orientation.
Zooming out: Along with its NWSL equivalent, the WNBPA is unique among player unions in that it books commercial partners independent of its league. Given that ability, the WNBPA has specifically chosen to be a major player in the blockchain space — especially when it comes to NFTs.
One red flag? Earlier this month, cryptocurrencies lost more than $300 billion in value over the course of a week. Yikes. Only time will tell how, or if, that will impact the women's sports sphere.
🏒

NHL Conference Semifinals: Desperate times

May 23, 2022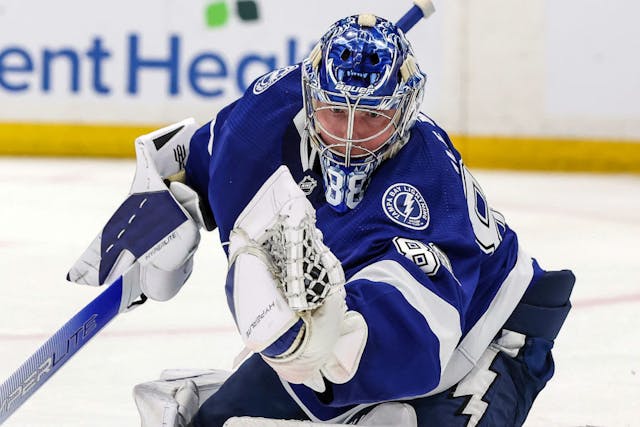 MIKE CARLSON/GETTY IMAGES
The GIST: While some teams are right where they want to be, others are calling for desperate measures. Regardless, the intensity is only growing as Round 2 of the playoffs heads into elimination territory.
Eastern Conference: The fight of Florida is turning out to be, well, not much of a fight at all. Steven Stamkos and the Tampa Bay Lightning powered a 5–1 win over the Florida Panthers yesterday, securing a 3-0 series chokehold in the process. The defending champs will be dusting off their Nimbus 2000s in hopes of a sweep tonight at 7 p.m. ET.
In the other semi, the NY Rangers topped the Carolina Hurricanes 3–1 yesterday, successfully closing their series deficit to 2-1. With Rangers' netminder Igor Shesterkin playing lights out in front of the Madison Square Garden home crowd, the 'Canes will need to try something new tomorrow night at 7 p.m. ET.
Western Conference: In typical Battle of Alberta fashion, the rivalry between the Edmonton Oilers and Calgary Flames remains boiling hot. The Oilers have gained a 2-1 series lead after last night's 4–1 victory, propelled by Evander Kane's natural hat trick. But something tells us this series will be a back and forth affair. See for yourself tomorrow at 9:30 p.m. ET.
Sprinkling in some postseason grit are the Colorado Avalanche (leading 2-1) and St. Louis Blues. With Blues' goaltender Jordan Binnington out for the remainder of the series (lower body), and the Avs losing defenseman Samuel Girard to a broken sternum, both teams are ready to rumble in tonight's 9:30 p.m. ET Game 4.
🏀

NBA Conference Finals: This is what you came for

May 23, 2022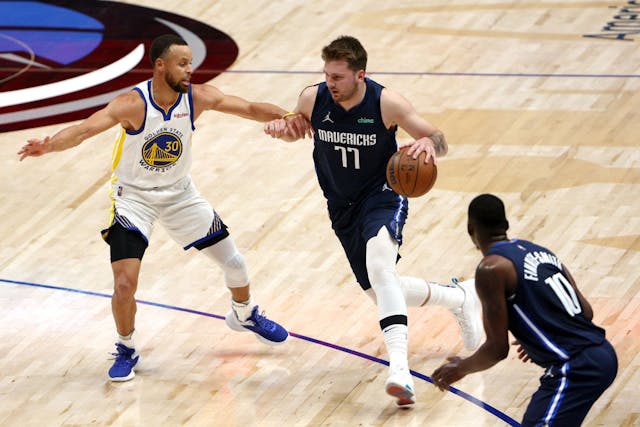 TOM PENNINGTON/GETTY IMAGES
The GIST: Forget Kourtney and Travis' wedding, the NBA Conference Finals pulled out all of the stops with some epic Game 3 clashes over the weekend. Game 4s, incoming.
Western Conference: The No. 3 Golden State Warriors (up 3-0) are just one win away from returning to the Finals for the sixth time in eight years after defeating the No. 4 Dallas Mavericks 109–100 last night. Warriors star Steph Curry had a monster double-double and his teammate Andrew Wiggins threw down a dunk that felt like a series changer.
Keep your brooms nearby — the Warriors will go for the series sweep tomorrow at 9 p.m. ET.
Eastern Conference: The No. 1 Miami Heat (up 2-1) overcame the second half absence of superstar Jimmy Butler (right knee inflammation) to hang on for a 109–103 road victory over the No. 2 Boston Celtics in Saturday's Game 3. Heat center Bam Adebayo stepped up to fill Butler's void, notching a double-double. Bam, indeed.
The story of tonight's 8:30 p.m. ET Game 4 could still be the injury report, though. While Kyle Lowry returned (in a big way) in Game 3 and Butler is expected to play tonight, Miami sharpshooter Tyler Herro is questionable with a groin injury.
As for Boston, starters Marcus Smart (who miraculously returned to Game 3 despite a scary ankle injury) and Robert Williams III (knee) are also questionable for tonight's tilt. No more injuries, please.
⚽

UWCL: Increased media value, attendance point to rise of women's soccer

May 20, 2022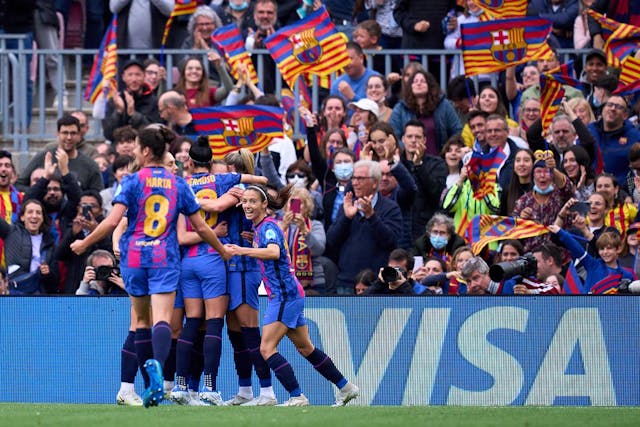 SOURCE: ALEX CAPARROS - UEFA/UEFA VIA GETTY IMAGES
The GIST: This season's UWCL off-field wins perfectly display the rising popularity of women's soccer. A prime example? Women's teams are playing for packed houses — and record crowds — after hosting games in stadiums usually reserved for their male equivalents. But teams aren't the only ones benefiting from the venue upgrades.
In a report shared with The GIST, Relo Metrics and N3XT Sports found that UWCL semifinals' media value is up 200% from last year for teams that upgraded venues. The MVP? The LED boards at major sports stadiums.
The details: The study compared two teams that changed venues, FC Barcelona and Paris Saint-Germain FC (PSG). Barcelona's 2021 semifinal at the 6K-seat Estadi Johan Cruyff generated $90K in brand media value. This year's move to the 99K-seat Camp Nou drove $518K — a 400% increase — in media value to team and UWCL sponsors.
As for PSG, last year's semi at Stade Municipal Georges Lefèvre, which seats 2K, heralded $190K for brands. This year's semi at the 48K-seat Parc des Princes, though, created $249K in brand value. Talk about a glow-up.
Zooming out: This season's success proved that women's soccer can fill huge stadiums and, consequently, drive greater ROI for brands. And given UEFA's unbundling of the women's and men's sponsorships in 2017, there's now a serious business case for brands to partner with the women's game as a singular product.
As far as the impact of LED boards goes, it spotlights the creative ways that technology can be leveraged to grow in-person ad inventory in the digital age. Don't sleep on this space.