⛳
🏒
⚽
🏎
Sports Quick Hits: November 22nd, 2021
November 22, 2021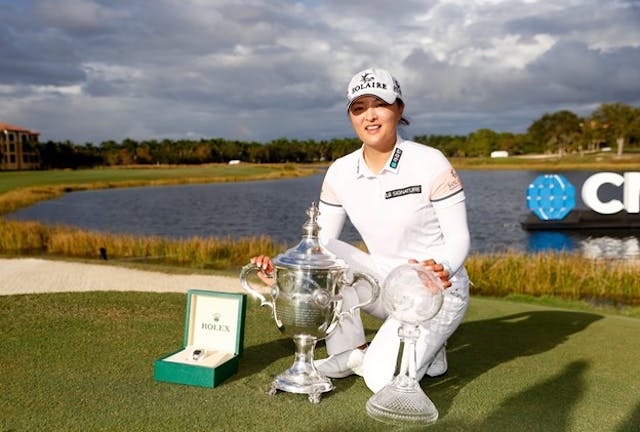 SOURCE: GOLF CHANNEL/TWITTER
⛳️LPGA: While Americans Mina Harigae and world No. 1 Nelly Korda finished third and fifth, respectively, at the CME Group Tour Championship, yesterday was all about South Korea's Jin Young Ko, who won her second straight season finale title, securing the $1.5 million first-place purse and LPGA Player of the Year honors.
🏒Hockey: After two straight rivalry losses to Canada, Team USA bounced back yesterday, winning 3–2 in overtime. Pal of The GIST of It podcast Hilary Knight scored twice, giving the U.S. a chance to even the My Why Tour series, tomorrow at 7 p.m. ET. Nothing we do better than revenge.
⚽️MLS playoffs: Single-elimination postseason play kicked off on Saturday and has been all chalk (aka as expected) so far. Round one continues tomorrow with No. 3 Nashville SC vs. No. 6 Orlando City SC at 8 p.m. ET followed by the No. 2 Seattle Sounders FC vs. No. 7 Real Salt Lake at 10:30 p.m. ET.
🏎F1: The F1 season is going to come down to the wire, with Mercedes' Lewis Hamilton notching another dominant win in Qatar yesterday. Following last week's win in Brazil, Hamilton is now just eight points behind Red Bull's Max Verstappen in the overall standings with two races to go. The drama.
⛳
🏎
⚽
Sports Quick Hits: November 15th, 2021
November 15, 2021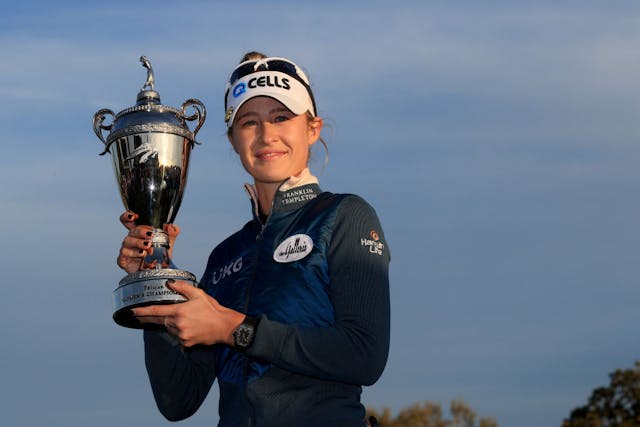 SOURCE: SAM GREENWOOD/GETTY IMAGES
⛳️LPGA: As if Sundays weren't scary enough, yesterday's LPGA Pelican Women's Championship went to a four-player playoff. American and World No. 1 Nelly Korda birdied the first playoff hole to claim her fourth LPGA title win of the season. What a year.
🏎️F1: Mercedes' Lewis Hamilton kept his repeat world champion title hopes alive thanks to a thrilling win during yesterday's São Paulo Grand Prix. Three races remain and Hamilton is trailing his archrival, Red Bull's Max Verstappen, by just 14 points. Couldn't write a better ending.
⚽️Soccer: Paris Saint-Germain (PSG) Féminine forward Aminata Diallo is speaking out following a disturbing attack on her PSG teammate Kheira Hamraoui (pronounced AHM-row-wee) last week. ICYMI: Diallo was arrested in connection with the attack but was later released from police custody without charge.
🏎
🏈
⛳
🏒
Sports Quick Hits: October 25th, 2021
October 25, 2021
Source: Mark Thompson/Getty Images
🏁Racing: Everything's bigger in Texas, including margin of victory. The Brit claimed her second consecutive title with a dominant first-place finish at the Circuit of the Americas this weekend.
⛳️LPGA: , but South Korea's Jin Young Ko held on to win the BMW Ladies Championship yesterday, with a playoff hole victory over compatriot Hee Jeong Lim. With the win, Ko is expected to overtake American Nelly Korda and become the new world No. 1.
🎓🏈College: Five ranked teams lost in Week 8, bringing some movement in the new . The wildest game of the week? Unranked Illinois' nine overtime (not a typo!) over previously ranked No. 7 Penn State. We're tired just thinking about it.
🏒Hockey: In the first of nine USA vs. Canada tuneup games leading up to the Beijing Olympics, Team USA women's hockey lost 3–1 to Canada on Friday. Fortunately, the squad's back in action tonight at 7 p.m. ET. Sounds like redemption to us.
⛳
🏈
🏎
Sports Quick Hits: September 27th, 2021
September 27, 2021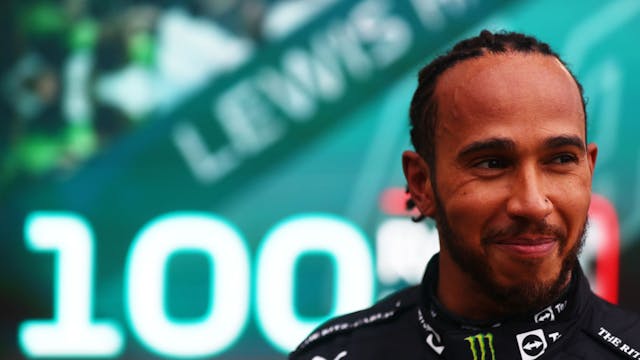 SOURCE: DAN ISTITENE - FORMULA 1/FORMULA 1 VIA GETTY IMAGES
🏎F1: Yesterday, Lewis Hamilton became the first-ever F1 driver to win 100 races, following a dramatic ending to the Russian Grand Prix. After race leader Lando Norris with a few laps to go, Hamilton sailed to his fifth win of the season, nearly a minute ahead of his and runner up, Max Verstappen.
🎓🏈College football: Hey Google, play "I'm Upset" by Drake. Four previously ranked teams lost to formerly unranked opponents during college football Week 4. Most notably, previous No. 9 Clemson lost 27–21 to previously unranked NC State, prompting the Tigers to fall out of the top 10 in the for the first time in 97 (!!!) weeks.
⛳️Golf: Okay Google, now play "Life is Good" by Drake and Future, because Team USA won the . In front of a home crowd in Wisconsin, the Americans cruised to a 19–9 win — the biggest margin of victory since 1979 — over Europe. The win was so special, even Brooks Koepka and Bryson DeChambeau . U–S–A!
🏎
🏈
🏀
Sports Quick Hits: September 13, 2021
September 13, 2021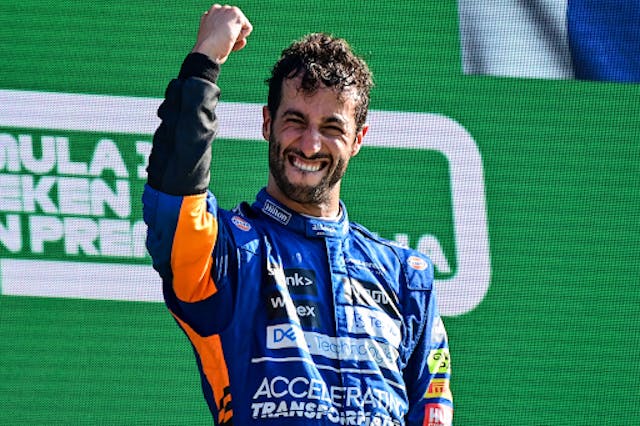 Source: F1/Twitter
🏎F1: Yesterday's Italian Grand Prix (GP) was a trip. The finally came to a head yesterday when Verstappen caused a crash that took them both out of the race (don't worry, ), before sweetheart Daniel Ricciardo won his first GP since 2018 and celebrated with a traditional . Crikey.
🏈College football: Thanks to a huge upset win over the Ohio State Buckeyes on Saturday, the Oregon Ducks flew up to No. 4 on the . At the same time, BYU moved up to No. 23 after beating rivals Utah for the first time since 2009.
🏀WNBA: The Seattle Storm will have to finish the regular season (all seven days of it) without their best player. Breanna Stewart last week and will be reassessed prior to the playoffs (which are set to begin on September 23rd). Rest up, champ!