This week co-hosts Ellen and Steph give #thegist of the first round of the NHL playoffs, (including their hot picks), and deep dive into what the NBA's play-in tournament will look like. It's the playoffs, baby...you never know what's going to happen. Tune in.
August 12, 2020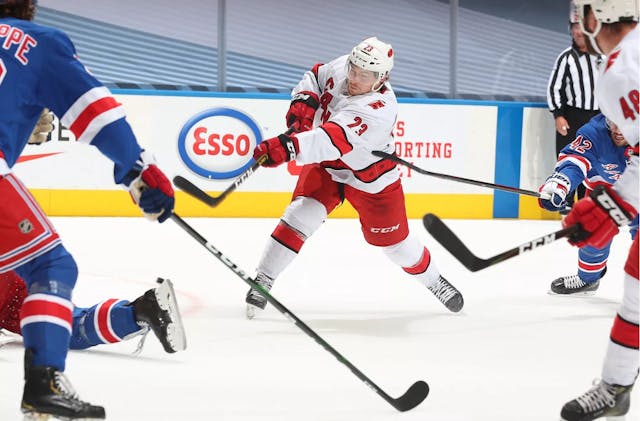 Chase Agnello-Dean/NHLI via Getty Images
Listen to this episode of The GIST of IT here!
Ellen: What is up GISTers? Welcome to The GIST of It. I'm Ellen Hyslop.
Steph: I'm Steph Rotz.
Ellen: And we're just two gals and two pals who are here to give you the gist of what's going on in the sports world. Thanks for tuning in.
Ellen: Steph, it is great to see you again, I feel like since we recorded our podcast last week, that I've been in a time warp because literally so much has happened since last Tuesday/Wednesday.
Steph: Back to back to back to back sports. I feel like I'm getting a migraine. There's so many screens. I've got my work screens up. I've got my sports screens up. I can see the bags developing under my eyes.
Ellen: For sure. The eye cream that I've been putting on over the last week and a half has just been getting thicker and thicker to avoid those under eye bags. And I've got to say, I have the blue light on my glasses and it is my saving grace during these times where I feel like you wake up, you're on your phone, you're on your computer, you're watching sports, you're watching sports at the same time that you're on your computer and working. It's a lot.
Steph: I mean, I'm on the opposite team of you, though Ellen, I think it's a scam. I also have it on my glasses and I don't think it does anything for me. So pros and cons.
Ellen: Oh, my gosh. What? No, it's probably the best thing that's ever happened to me. But anyway...
Steph: Anyway.
Ellen: Anyway, outside of glasses, I do have to say I am a little bit rattled from this week, as I know you are too being a Toronto Maple Leafs fan and the Leafs getting out of the playoffs just in the qualifying round after Columbus beat them three nothing in game five on Sunday night. It was just brutal. And what added salt to the wound was for the NHL draft lottery, so basically, of all those eliminated teams, each team had a twelve point five percent chance of getting the number one pick in the NHL draft. The New York Rangers ended up getting it. So congrats, to all of the Rangers fans. You'll probably draft Alexis Lafrenière, he's amazing, franchise changing player. But the Leafs, because they didn't get that number one pick and because of a deal made previously, don't even get their number thirteen first round draft pick. They don't have a first round draft pick at all this year. So the start of the week was not a great one for us Leafs fans.
Steph: It's hard to rally some optimism as a Leafs fan right now. But anyway, speaking of all of these sports, normally October and April are the best months to be a sports fan. But this year it's August and it's September because it's the playoffs, baby. So let's get into everything that you need to know for the NHL playoffs and the NBA playoffs, including that wacky play in tournament.
Ellen: Let's do it.
Steph: All right, all right, all right, let's kick things off with hockey, because the round of 16 playoffs officially started last night and then we'll get to the NBA. So everything with the NHL playoffs is basically back to normal. There are 16 teams, the top eight from the Eastern Conference and the top eight from the Western Conference are playing in the playoffs. Top four teams from each conference coming from the round robin and then the bottom four teams from each conference coming from that ever so often qualifying round. And they will be going back to the best of seven game format that we love in this series, there will be four rounds with the final round being the best of the east facing off the best of the west to win the Stanley Cup.
Ellen: Yes, I'm so happy to see the series going back to seven games. I think that it's so much fun. And fun fact, that's also why the Stanley Cup is widely known to be the hardest trophy to win in professional sports. It's actually labeled that. And a lot of that has to do with the chances of making it into the playoffs, the duration of the season, the NHL has the lowest salary cap of all of the major leagues. Fun fact. And because stars are used differently in hockey, it's truly a team game as opposed to when you look at the NBA and you look at the power teams, for example, that LeBron has put together in Miami or that LeBron has put together now in L.A. for the Lakers, you just can't really do that in hockey. And I think that's very indicative of what happened to the Leafs. We have a lot of star power but couldn't frickin make it through the qualifying round. So it's such a team game and the injuries are very different. So, yeah, I just want to put that out there, it's the hardest trophy in sports.
Steph: Oh, my gosh. The injuries. Yes. Think about it. I totally agree with you, Ellen. I'm a little bit biased, though, as a former hockey player. It's such a tough sport and I love the playoffs because there's truly nothing like that game seven elimination day. So scary. Oh, my gosh. I want to kind of dive deeper into these NHL playoffs, going into who's playing who and our predictions on who will win. And yes, we know that some games were played last night after we recorded this and as we're recording this, but still, hopefully our predictions come out on top. And here at The GIST we've put our heads together enough to have something going right for us here. Let's start off with the Eastern Conference. The Philadelphia Flyers are facing off with the Montreal Canadiens.
Ellen: Yes. And I'm shocked that Philly ended up as being the number one seed in the Eastern Conference. They just absolutely killed that round robin. They went three and oh, which is amazing. Good on Philly. Love to see it. And Montreal beat the Pittsburgh Penguins. They weren't even supposed to make the playoffs at all. So it's kind of just two kind of surprises for me. And Steph I know that you're obsessed with Montreal Canadien Max Domi. Ever since the world junior days, you've been obsessed with him. But I don't know. I have to put my money on... not that I bet that often, but if I was a betting woman, I would say Gritty and the Flyers would take this one.
Steph: Oh, my gosh, it's so embarrassing. The throwback to 2015-2016 World Juniors. I don't love Max Domi anymore. And I do think it's important to put into the record we only have like a two year age gap. So like don't be side eyeing me right now, please. But it was such an upset with the Canadiens. And I think the lesson here is, you know, never underestimate good defense. Never underestimate Carey Price.
Ellen: Very good point.
Steph: All right. That moves us to number two, Tampa Bay versus the Columbus Blue Jackets.
Ellen: Oh, those friggin Blue Jackets. So this one is a scary one for me. Obviously, the Blue Jackets got rid of our dear Toronto Maple Leafs. And in the first round of last year's playoffs, they beat Tampa. And Tampa was the top seed. It was a massive upset. So I don't know. I honestly think that it could be so fun to see Columbus stay on this upset train. But at the same time, Tampa's a super deep team, and you got to be thinking they're not going to let that happen again.
Steph: Mm hmm. I can't believe that they swept them last year, and didn't get them any wins. I don't think the Blue Jackets can do it again. I think I'm going to have to go with Tampa on this one. They've got something to prove. They've got a little bit of revenge in the veins. So I think we're going to see all seven games, though, with this one.
Ellen: Oh seven games, I like that.
Steph: Mmhmm. Thank you. Thank you. And moving on, we got number three. We have Washington versus the New York Islanders.
Ellen: Yeah. So the Islanders to me are always just kind of random. I know that we shouldn't say that, but they just have this lack of star power and playoff tenacity, I would say. But, you know, Washington in this round robin tournament was sleepy, super snoozy, Alexander Ovechkin, the captain of the Capitals did absolutely nothing, so he needs to wake the fuck up if the Capitals want to have any chance of beating the Islanders because the Islanders are in playoff mode.
Steph: I agree with you about the Islanders. It's always in the back of my mind thy kind of slip, right. And I think they are in playoff mode. They have a great coach too, with Barry Trotz, who used to coach the Washington Capitals. So he may know how to defend them as well. Yeah. So are you saying Isles for this one?
Steph: Let's go, Isles.
Ellen: OK, let's do it.
Steph: Moving on to a contentious number four, Boston Bruins vs. the Carolina Hurricanes.
Ellen: Yes. Again, any Boston sports fans, we're sorry, we don't like the Bruins. I especially do not like Brad Marchand. And I do not want to see him lift the Stanley Cup. But I think that there's a very good chance that Boston does it. Although similar to the Washington Capitals, Boston played horribly during that round robin tournament. And Carolina just seems like a super fun team to me. So I'd love to see Carolina beat them, but I don't think it's going to happen.
Steph: Boston's a Stanley Cup favorite. I have to acknowledge that. I'm not sure I can really go against them, but I'm loving the tweet that the Carolina Hurricanes pushed out last week of them coming out in front of that Raptors monogram and saying we the North Carolina. So I have a lot of respect for them now after that tweet.
Ellen: For sure, their social team is hilarious. They always have amazing tweets. And I also love how Carolina celebrates at the end of games, especially when they were playing at home. So I think that they're just a team that you can't hate. So very opposite of Boston.
Steph: Ok, so that's it for the Eastern Conference. Let's flip it on over to the Western Conference. Number one, we've got Vegas Golden Knights coming up against the Chicago Blackhawks. OK, so Chicago shook everyone up when they upset Connor McDavid, the league's best player and his Edmonton Oilers during the qualifying round. Chicago also has some really amazing veteran talent. And Jonathan Toews, Patrick Kane and Duncan Keith, who have all won multiple Stanley Cups.
Ellen: Yes, they have won multiple Stanley Cups. And Jonathan Toews is my boy, absolutely obsessed with him also, actually, ever since the World Juniors when I was a young kid. At that point he scored three shoot out goals in a row. And I was like, this kid has it. And so I've been obsessed with him ever since then. He's also very easy on the eyes. But as much as I love him and I would love to see him win another Stanley Cup, the Blackhawks have been absolute garbage for the last couple of years. They have not played well. And so it hurts me to say that, but there's no chance that they're going to be able to beat Vegas and a goalie like Marc-André Fleury, who also has multiple Stanley Cups himself.
Steph: Yeah, I'm going to have to agree with you right there with the Vegas Golden Knights taking that match.
Ellen: Yeah.
Steph: Which moves us over to Colorado Avalanche, coming up against the Arizona Coyotes. The Coyotes upset the Nashville Predators in the qualifying round, which is huge news. But Colorado is the team to beat for me here, absolutely obsessed here at The GIST with Nathan MacKinnon. He is so fun to watch. I think he's going to have a pretty good series here. What do you think El?
Ellen: Yeah, MacKinnon, especially with Connor McDavid being out to me, is the player to be watching and he's going to be having a lot of fun. I think that the Coyotes too, are dealing with some adversity still because their manager actually just up and quit on them literally the day before they went into the bubble. So they're in a little bit of a weird place right now, but they also have a lot to prove at the same time, because they kind of have to be like, why did this guy leave us? At the end of the day, though, they don't have the same, I would say, offensive talent that the Avalanche do, and the Avalanche should be taking this.
Steph: All right. OK, let's move on with the Dallas Stars and Calgary Flames. This is an absolute wild card, this matchup for me. No clue what's going to happen for real. This one is probably also going to go to seven games.
Ellen: Oh, it has to go to seven games. I really hope that this one goes to seven games. Dallas is a little bit sketchy in the playoffs too, so you never know what's going to happen. I still give them a little bit of a slight advantage here because they do have the stronger defense in comparison to the Calgary Flames. But it's just going to be a really gritty series no matter which way you slice it.
Steph: Mm hmm. And now that we've passed over the Vegas Golden Knights and the Dallas Stars, I do think it's important to pause here for a second during the qualifying round and round robin two players from each of these teams, though, from the Golden Knights and from the stars, have been the only NHL players to take a knee during the Canadian and American national anthems while suited up in their gear before a game, following the leadership of Ryan Reeves on the Golden Knights.
Matt Dumba, who plays for the Minnesota Wild who were beat out by the Vancouver Canucks, he did deliver a speech at an Edmonton and Chicago game on behalf of the Hockey Diversity Alliance, condemning racism and condemning racism in hockey. And Dumba took a knee after that speech during the American national anthem. No one else on the Oilers or from the Chicago team took a knee. He did have defenseman Darnell Nurse from the Oilers, as well as Chicago goalie Malcolm Subban, place their hands on his shoulder, which is just a little bit of a different gesture, in my opinion. And with the NHL, we have not really seen an unabashed acceptance or advocacy with making Black Lives Matter an explicit part of their return to play. Like we have seen with the NBA and the WNBA and hockey fans had started a #kneel4hockey on Twitter to really urge their favorite players to take a knee during the national anthem. So they showed pictures of themselves kneeling in support of Black Lives Matter while wearing their favorite hockey jerseys.
Ellen: Yeah, I think that it's super important to be chatting about this. And I also think that it's important to note that Darnell Nurse and Malcolm Subban are both Black players for those that aren't familiar with who they are. P.K. Subban's brother, a lot of people might know P.K., Lindsey Vonn's husband or fiance, I guess. But I think, in the grand scheme of things, I was expecting more from the NHL, especially after everything that we had talked about previously in all of the programs that they were going to be doing, what they were going to be covering, and it just seems like the buy-in from players hasn't really pushed to the next level yet.
Steph: Yes, I would have loved to see the players really show up for Dumba, really show up for Nurse and Subban in that moment, and everyone take a knee.
Moving on throughout the Western Conference here we have the St. Louis Blues and the Vancouver Canucks. The Blues are last year's Stanley Cup champions, whereas the Canucks seem to kind of always flop in the playoffs and are not really considered a playoff team, would you say?
Ellen: No, no, I will never forget when the Vancouver Canucks lost in the Stanley Cup playoffs, when was it? It must've been like 2012 or something. And the entire city just went to shit like there were people rioting, there were cars on fire. I think that one of those photos is a couple making out in the street and there's just a car on fire in the background. We should link that in the show notes, because it is wild and one of the most iconic photos ever shown. But since that riot I guess you could say, to the Canucks losing the Canucks have just been not good in the playoffs. And I don't blame them after something like that.
It probably cursed them or something versus the Blues, last year, by January 1st, they were last in the league and then all of a sudden they turned it up and ended up winning the Stanley Cup. They had the best story. They used Gloria as their celebration song. They're so much fun. And to me, they're just a playoff team, that said they played like crap in the round robin and Vancouver played super well in the qualifying round. J.T. Miller, Brock Boeser and Elias Pettersson (some say Peterson) turned on the heat. But I mean, the Blues will finally have Vladimir Tarasenko back and he is a forward for them. They like to call him Vladimir Tarasenk-show because he puts on such a show because he's such a goal scorer. And so he could be amazing. A lot of people are calling for the Canucks upset which would be amazing to see. But I also really like the Blues, so I'm torn on this one.
Steph: I'm going to cosign the Canucks upset.
Ellen: Oh, shit. Yeah, OK.
Steph: I think that match really speaks to the essence of an NHL playoff. You know, you don't know what's going to happen. And those are all of our first round predictions. We're excited to see how we fare in those predictions. It's going to be super fun to cover the playoffs all the way potentially into October.
Ellen: Yes.
Now it's time to talk about the NBA playoffs, baby. So whenever I say, baby, I think of Kawhi. When he's always like, "what it do baby?" I just miss him so much. But anyway...
Steph: More heartbreak.
Ellen: Yeah, exactly. The official round of 16 best of seven game playoffs start on August 17th for the NBA. So that's next Monday. But before then, we have the Western Conference play in tournament. That's going to be starting on Saturday. So the play in tournament is happening because in the Western Conference, the eighth seeded team is ahead of the ninth seeded team by four games or less. So this tournament that is happening on Saturday is only going to be two games long. And for the number nine spot to move on into the round of 16 playoffs, they have to win both of the games in the play in tournament. Whereas the Eastern Conference doesn't have to have this play in tournament because their eighth place team, the Orlando Magic, is over four games ahead of the ninth place team, the Charlotte Hornets.
Steph: Very interesting. I'm loving the format of that play in. And at the time of this recording, which is Tuesday evening, Eastern Time, we're still not sure who is going to be playing in the play in tournament. And it's a really tight race between the Memphis Grizzlies, Portland Trailblazers, Phoenix Suns and the San Antonio Spurs. My bet is going to come down to Memphis as the eighth seed with either Portland or Phoenix as the ninth seed.
Ellen: Yeah, I think that's a good guess. And if I'm Memphis, though, or whoever ends up in eighth place, I really hope the number nine is the Portland Trailblazers, because the Suns have been on absolute fire in the bubble, probably the hottest team in the bubble. And at this time of recording, they were undefeated. So I just can't believe that they haven't lost at all in the bubble and they're coming on so strong and they could definitely keep it going and go two and oh against Memphis. So, you know, I hope that they're in there.
Steph: I mean, you can't deny a team's on fire when a team is on fire.
Ellen: Yeah. And we should also mention that if there's a tie for that eighth or ninth place, the tiebreaker goes to the team with the highest winning percentage from the regular season. So there is some sort of a tie breaker. And important to note because those four teams that you mentioned are just so so tight right now.
Steph: What an interesting weekend that we have ahead of us. And after this play in, it's the number one seed in each conference taking on number eight, number two, taking on number seven, et cetera, et cetera. The L.A. Lakers took number one in the west and the Milwaukee Bucks took number one in the east. We'll link the current standings in the show notes as well so you can see who's playing.
Ellen: Yeah, no surprise there that both of those teams took number one. But still, I don't know, I don't think either of them are going to be our NBA champions. Saying it now. Neither of them, neither number ones. We've got to have someone else.
Steph: I'll put my money on that too Ellen.
Ellen: Ok, Steph, so I love the playoffs and I'm so excited and I feel like that was just so fun talking about everything, because what's frickin' better than the playoffs? But let's keep the good times rolling by still talking about what put smiles on our faces this week.
Steph: Biggest thing for me El was hearing that the WNBA and Twitter extended their partnership. So there's going to be 10 WNBA games streamed live for free on Twitter for both American and Canadian audiences.
Ellen: So huge. And when we talk about accessibility to these games and exposure for women in sports, this is what we need to be seeing.
Steph: This is what we're talking about. You know, make sure people can actually watch the games.
Ellen: Totally, and support the players. Speaking of supporting players, Steph, we had some news come out of the college sports world today. And of the five major conferences in college, the PAC 12 and the Big 10 have said no to college sports for the rest of 2020, meaning also no football.
Steph: It's so important to see them taking this seriously. And it is exciting to know that, you know, health is being put first. It's most important here.
Ellen: For sure. Sad news for some, but also from a macro perspective and from what's actually important here, we think this is the right call and it will be interesting to see what the other three major conferences are going to be doing in that Power Five.
Ellen: And then finally, last but not least, and I love a good transition. Speaking about power, friggin Serena Williams was back today, first time playing in six months. Of course, she won her match. And just anything that Serena does, I'm so for. And it is just amazing to see again, I'll say it once, and I'll say it again, the best athlete in the world back, doing what she's doing.
Steph: When Serena talks I listen. Let me tell you, Ellen, I saw that The GIST shared her saying that she's not planning any more during this pandemic. And I really took that to heart as an affirmation. I said to myself, no more planning Steph. Serena, thank you.
Steph: Thanks y'all for tuning in. That was The GIST of It from Ellen and I. If you like what you heard, please feel free, tell all your friends. Subscribe to us on Apple Podcasts, Spotify, Google Play or Stitcher and rate us five stars and leave a review.
Ellen: Yes. And once you're done doing that, be sure to check out thegistsports.com and sign up for our free twice weekly newsletter that gives you "the gist" of what's going on in the sports world. It comes out every Monday and Thursday morning. Otherwise you can get in touch with Steph and I over email, pod@thegistsports.com or DM us on Instagram @thegistnews.ca or @thegistusa. So once again, I'm Ellen Hyslop.
Steph: And I'm Steph Rotz.
Ellen: And this has been The GIST of It. We'll see you next Wednesday.