We had a chance to chat with Team Canada forward Natalie Spooner about Secret's game-changing investment and what it means for the sport. Spoiler alert: the future's looking real bright.
November 13, 2020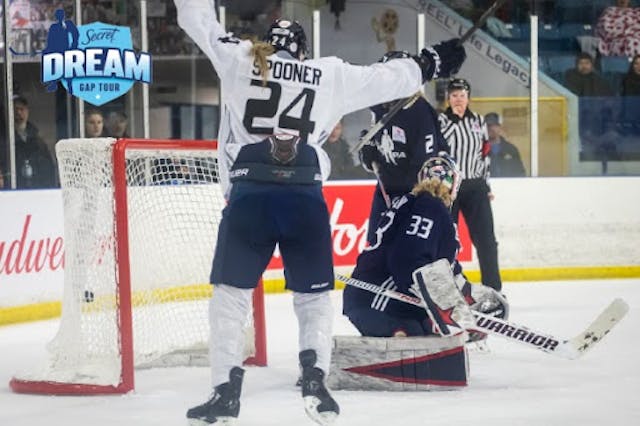 Source: PHWPA x Secret
We're all about supporting and amplifying women's sports. That's why we couldn't be more excited to celebrate 's $1 million (!!!) commitment to the Professional Women's Hockey Players Association () to help advocate for a new equitable professional women's hockey league.
We had a chance to chat with Team Canada forward about Secret's game-changing investment and what it means for the sport. Spoiler alert: the future's looking real bright.
Just like us, Spooner's initial reaction to the news of Secret's commitment was pure excitement.
"The most amazing feeling was to know that they believed in our sport and all the work that we've been doing and trying to push for," she said. "People are now realizing that women's hockey is worth investing in and that people want to watch it." If you air it, they will come.
Secret's investment also signals a potential ground-breaking moment for the game. These women have already been fighting a hard-fought equal pay battle, and this incredible commitment could spark a culminating moment of change.
"This past year, we've made a lot of momentum with our and now that Secret is on board, I think we're just going to be able to keep up that momentum," Spooner said.
"Hopefully this is showing other sponsors that wow, they're getting a lot of returns from their investment...and supporting so many amazing players and people that hopefully we can get some more on board...and keep fighting to eventually get a sustainable women's league." Yes, please!
While a handful of early sponsors helped the PWHPA past, Secret's massive commitment will set the tone for even more sponsors to step up to the plate ice.
"Last year we had some pretty amazing sponsors," Spooner noted. "And now with Secret really stepping up big, I think it does kind of set that precedent."
At the heart of Secret's funding commitment is a 2021 Dream Gap Tour that will feature your favourite stars competing in six showcase events across North America with cash prizes and the coveted Secret Cup up for grabs.
Unsurprisingly, Spooner is just as pumped about the tour as we are. "We're going on this amazing tour where we're going to be able to hit some amazing places and inspire lots of young girls," she said. We're so ready.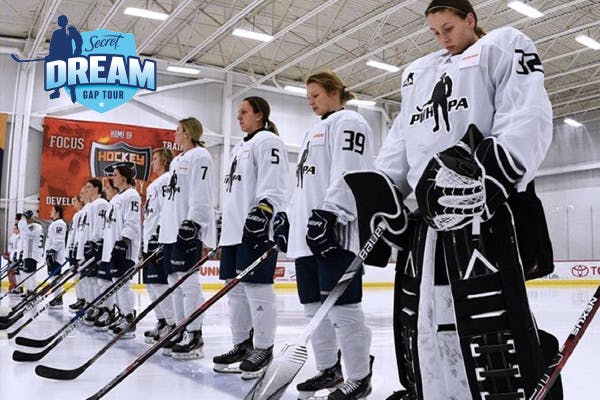 Source: PWHPA x Secret
Spooner also discussed how Secret's investment could help to alleviate the complicated dynamics between the PWHPA, NHL, Hockey Canada and USA Hockey.
"The ultimate goal for me would be for them all to be on board and we would have kind of that WNBA model," she said. "I think the fact that we're able to get a million dollar sponsorship from Secret is going to make them open their eyes a little bit wider and say 'Wow, it's happening now and people are interested."
The Secret Dream Gap tour will also satisfy our hockey cravings as we wait for the 2022 Beijing Winter Olympics and inspire a new crop of fans heading into the games.
"It's not that people are just going to be watching us every four years at the Olympics," Spooner said of how Secret's investment will change the game. "They're going to be able to watch us the other three years that are in between. And with the marketing and getting us out there, hopefully people become fans before the Olympics."
And on the topic of attracting more fans, we also asked Spooner about the recent increases in viewership for women's sports and how that will translate to increased broadcasts of women's ice hockey.
"You can't deny those numbers," Spooner said of the increased viewership for the WNBA and NWSL. "I think if we can get our games on TV, more people are going to become fans and realize how good the game has gotten and how fast and how skilled the players are." We've said it before and we'll say it again: .
Thanks to the years of hard work by these women and 's game-changing $1 million investment, we know there's nothing but great things in store for the future of women's ice hockey.
"We've just come so far," Spooner said. "I know from here it's only going to go up."